As part of this summer's NCS (National Citizen Service) programme, we are looking for community groups and organisations that could use the help of a team of volunteers for a short-term project.
During July and August, VODA will be working with 17 teams of young people aged between 15 and 17, who will all be undertaking social action projects as part of their involvement in NCS.  'Social action' basically means people doing something practical to tackle a problem or challenge faced by the community  – this could include putting on an event, sprucing up a run-down community room, setting up a campaign, or creating a communal garden in a neglected space.
If your group or organisation could use the help of such a team, plus two support staff, for a two-week period then we'd love to hear from you. Selected groups will be supported to create a short film outlining their challenge, gain lots of positive publicity and be invited to a celebration event at the end of the programme.
Please use the contact form on the right to tell us about your challenge or contact our Volunteering team for more information. Ideas should be submitted by 31 May for consideration. We look forward to hearing from you!
NCS Does Social Action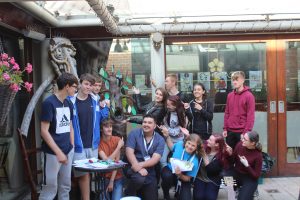 One team from last year's NCS programme was concerned about the stigma surrounding people talking about their mental health. So they decided as their social action project to create a tree sculpture and decorate it with leaves containing people's own mental health stories, then to place the tree in a public place with the aim of reducing the stigma around mental health.
The team worked together to design and build the tree from mod-rock and recycled materials, then, supported by mental health charity MIND, members visited community events and different charities to collect people's stories and held a launch event at The Exchange in North Shields where the tree was displayed.