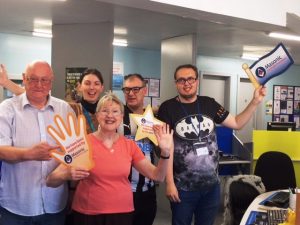 People from the Riverside and Chirton wards of North Tyneside will receive support to gain vital digital and employability skills to help them back into work, thanks to a grant from Northumberland Freemasons.
The generous grant of £5,000 to Meadow Well Connected will help to fund the centre's Digitally Connected project, which provides free access to their IT Suite and support from staff and residents to improve digital confidence.
Last year, Meadow Well Connected support 260 people to gain digital skills and provided over 3,500 hours of support through a range of activities and workshops to help people manage their online lives.
The grant from Northumberland Freemasons comes through the Masonic Charitable Foundation, which is funded by Freemasons, their families and friends from across England and Wales.