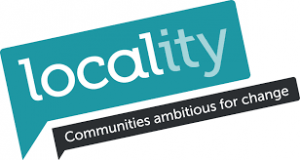 Wednesday 24 October, Newcastle City Library, 33 New Bridge Street West, Newcastle upon Tyne, NE1 8AX
Locality is a national membership network supporting local community organisations. They are bringing together the voluntary and community and public sectors in the North East to discuss commissioning, contracting and the delivery of public services, and hearing from leaders and practitioners on the challenges facing both sectors, emerging new innovations and best practice.
Speakers will include Joyce McCarty, Newcastle Council Deputy Leader on how Newcastle is committed to keeping it local, and Sally Young, Newcastle CVS Chief Executive, reflecting on the voluntary and community sector on commissioning and contracting.