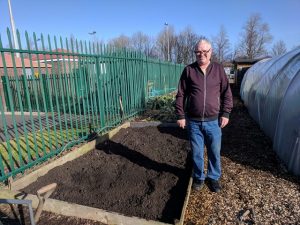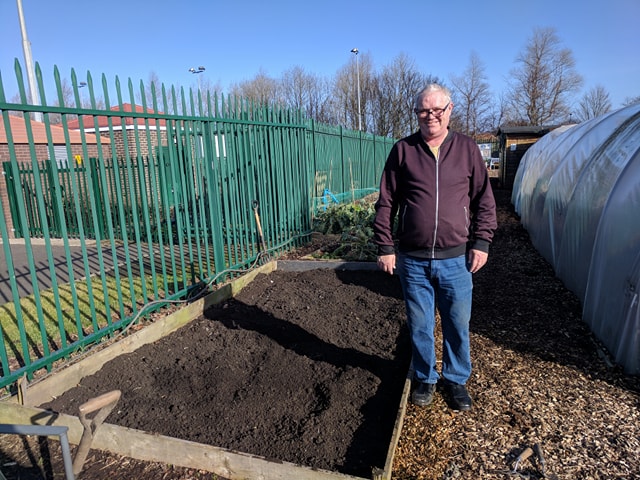 "I first got involved with the SAINT project through the Moving on Tyne and Wear (MOTW) project worker at VODA. I had been referred there by JobCentre plus to get involved in some volunteering. I'm not able to work at the minute due to my health issues, so Claire at MOTW helped me find some volunteering. I really enjoy hands on practical tasks such as DIY and gardening so when Claire mentioned that the SAINT project had a plot at Whitley Bay Community Allotment, I decided to give it a go. Claire put me in touch with Josie at VODA, we met up and went down to the allotment.
Before I started coming to the allotment with SAINT I wasn't doing anything. I live with my mum and dad and I usually just sit in the house a lot playing on my computer. I never really did anything before; I did want to get into something but I wasn't sure what. This is the only thing I do now really – apart from helping my mam and dad – that gets me out of the house. I love it down at the allotment, I get to meet new people and I used to do this kind of work in the gardens in Wallsend so it's great to get back into it. The only downside is now my mam says I've got to do her garden!
Since coming to the allotment we have completely changed our plot. It was really overgrown when we got it, so we have de-weeded it, turned all the soil and dug out all of the stones. We've planted loads of potatoes, onions, garlic and wild flowers. We have a little space in the polytunnel where we are germinating lots of other vegetables and beans. I feel like we have got loads done on the site, and it's really great teaching all the other people about gardening and having a cuppa in the sunshine.
It's made such a difference to me, in myself. Not just how I feel, but also my health. I work hard at the allotment, and can sometimes be a bit sore. I have arthritis and I feel that getting out and about and doing some light physical activity helps my bones, and afterwards it doesn't hurt as much. I have less aches and pains. And you can't go wrong with a bit of fresh air, I feel a lot better in myself for talking to other people, as sometimes I don't really speak to anyone, unless I speak to my mam and dad.
I'm going to keep coming to the allotment and tending to the plot and growing fruit and vegetables. Our plan is then to give the vegetables to a community group, but we haven't decided which one yet. At the moment I come down once a week, because we're just starting out. But, I would like to come down a lot more, maybe a couple more days of the week. The only thing I would change about coming to the allotment is that I wish it was bigger; I'd like to grow more and take on a bigger challenge in the future or maybe have my own plot. We're going to replace some parts of the fence around our plot and make a new sign in the next few weeks, as well as make some plans for a mosaic. I'd like to do something vegetable themed and hang it on the fence above our plot to make it look even nicer.
Whitley Bay Community Allotment is a really nice play to spend time, the site as a whole is a really nice one."
Read more about our SAINT project and how to get involved here