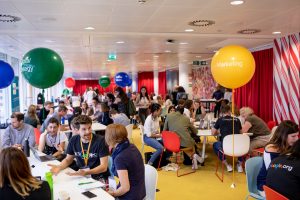 VODA is delighted to support the launch of Media Trust's new digital skills training programme.
At a time when more than 45% of charities don't have a digital strategy, despite 73% believing that strengthening their digital skills would help their organisation grow*, it is vital that charities are given the support they need to enhance their digital capabilities or risk being left behind. However, when resources and budgets are stretched, this can prove difficult for many charities.
Giving UK charities and community groups a digital voice
Communications charity Media Trust has launched a new UK-wide digital skills training programme designed to help charities and community groups access the vital digital marketing training they need, in order to strengthen their communications capabilities and get their voices heard in a rapidly evolving digital world.
Digital skills training coming to a city near you
Media Trust will deliver masterclasses in more than a dozen locations around the UK, including Newcastle upon Tyne, in response to an increasing need from charities for training outside of London. The half-day masterclasses, which will be delivered supported by Google Digital Garage, will cover a range of topics from Social Media Strategy to Building a Digital Marketing Plan.
At these events, you will have an opportunity to discuss your specific digital communications challenges with, and receive advice from, media and communications experts, learn from other charities as well as receiving digital skills training from a team of Google mentors.
Charities and community organisations can now sign up to attend free digital skills masterclasses in locations around the UK, including Newcastle on 8 November 2018 – book now to receive digital skills training.
The masterclass is aimed at charity professionals who have communications as part of their job role, or for senior leaders and trustees who are interested in developing their organisation's digital communications.
Please note, there is a maximum of two attendees per organisation in order to allow a wide number of charities to benefit from this training.
*The Charity Digital Skills Report 2018: http://report.skillsplatform.org/charitydigitalreportdetail-2018/