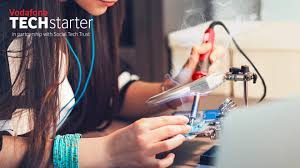 Vodafone Techstarter offers UK-based social tech ventures and charities the chance to secure funding and gain access to expertise to help take transformational ideas from start-up to scale-up.
The scheme offers a prize fund of £300,000 and the potential for winners to receive guidance from expert teams and partners. This could be around key technologies such as Internet of Things, 5G, digital services and infrastructure or in areas such as commercial development.
Vodafone Techstarter is launched in partnership with Social Tech Trust, one of the UK's leading dedicated drivers of social tech and charitable body, Vodafone Foundation (registered charity number: 1089625). They are looking to support tech ventures on a mission to make a difference in the areas of health and well-being, education, environment, social mobility and inequality.
Applicants are asked to submit a pitch video as part of their submission – full details and tips for creating this can be found on the website.
Deadline: 12 noon on 23 October 2018