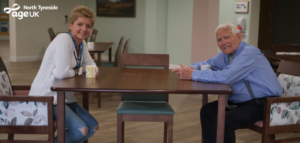 Befriending volunteers offer supportive, reliable relationships to people who would otherwise be socially isolated.
Age UK is looking to recruit befrienders who will support an older person by visiting them in their home environment, once the Coronavirus restrictions ease and it is safe to do so. Until then, your friendship will begin on the phone, making it a great way to get to know the person, make a connection and build confidence together before you meet face to face.
Volunteer Nicola says: "It's really good to know I will be putting a face to a voice soon. We have a catchphrase on the phone. There's only one thing better than a cup of tea, and that's two cups of tea!"
If you're empathetic and good at talking, you could be a befriender. Your time could make a massive difference to an older person's life. Lots of people say these chats are the highlight of their week.
Everyone needs other people, but not everyone has someone. To find out more, contact Beverley at Age UK North Tyneside on 07974 184813.