Age UK North Tyneside offers both in person and telephone befriending to older people in North Tyneside. Their befriending volunteers offer supportive, reliable friendships to people who would otherwise be socially isolated.  The volunteers are empathetic and good at talking and listening.  Befriending is fun, safe and easy. Lots of people say these chats are the highlight of their week.
"Loneliness can affect people in very different ways and even if an older person has family and friends, they may still have times when they may feel lonely or are in need of friendship.
Our befriending services offer older people a chance to share their stories, make a new friend and connect with someone outside their usual social circle." – Head of Charity Services, Yvonne Probert.
If you, or someone you know could benefit from a befriender, please get in touch with Age UK North Tyneside.
A befriender can help you build up and maintain a trusting close relationship over time. Regular social interaction might help you pursue a new direction in life, open up a range of activities, and build confidence. Your one to one relationship will be supported by Age UK North Tyneside.
Home Visit befriending service: please ring Beverley on 07974 184813. Volunteer befriender Nicola said "There's only one thing better than a cup of tea, and that's two cups of tea".
Telephone befriending service:  please ring Carole on 07811 764358. This service is a weekly call arranged to a time which suits the volunteer and befriendee. It is a social chat, to help relax, connect with the community and have a laugh. The co-ordinator will provide regular phone calls to review the service and chat about any concerns.
Volunteer to be a befriender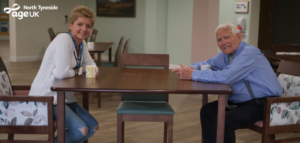 Age UK North Tyneside is always on the lookout for new volunteer befrienders. If you feel you could spare some time to provide company for a lonely older person in North Tyneside, they would love to hear from you.
Everyone needs other people, but not everyone has someone.
You can choose to help by visiting a befriendee in their home environment or by making telephone calls. If you're empathetic and good at talking, you could be a befriender. Your time could make a massive difference to an older person's life.
Find out more about being a befriender
Age UK North Tyneside befriending podcast
Find out more about Befriending Week