Volunteers for COVID-19 mass vaccination centres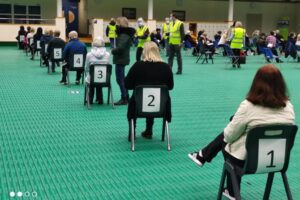 UPDATE: At present we have enough volunteers signed up for this role. However, if you would like to be added to the waiting list for the next round of recruitment, please email your details and a contact telephone number to: volunteering@voda.org.uk
The new Covid-19 vaccine is now being rolled-out in North Tyneside in four mass vaccination sites across the borough. A dedicated team of NHS health professionals, aided by volunteers from across North Tyneside, is working together to deliver the vaccine to the most vulnerable groups (> 80 year olds first) in this initial community phase of the COVID-19 Vaccination Programme rollout.
VODA is recruiting non-clinical volunteers to support the health professionals to help with the smooth running of the site and ensure the safety of the people attending and working there.
The volunteering roles include helping to steward people safely round the centres and take the role of door attendants to help manage the flow of people. They are looking for people who are calm, patient and reliable and are able to spare some time to help out.
Shopping and Prescription Collection Volunteers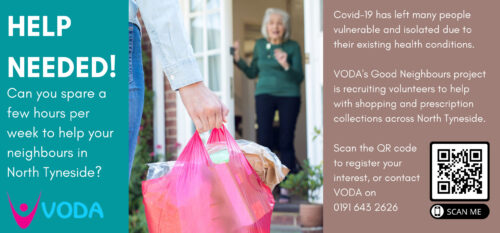 Can you spare a few hours a week to help your neighbours in North Tyneside? VODA's Good Neighbours project is recruiting for new volunteers to help with shopping or prescription collections.
Covid-19 has left many people vulnerable and isolated and no doubt this second lockdown will see this increase. We urgently need your help!
COVID-19 Good Neighbours Response – Level 3 Shopping Volunteers
North Tyneside Community Health Champions
VODA is recruiting Community Health Champions to play a vital role in the sharing of public health information to members of their local community during the current Covid-19 situation and other health issues. Read more and sign up here.
Digital Champion Volunteers
VODA is recruiting Digital Champion volunteers to support people to become digitally connected.
The volunteers will work with a person to teach them how to use their device to reduce isolation and enable digital inclusion. We work with people who already have a tablet/smart phone/computer to make the best use of their device.
This is a rewarding opportunity for you to give back to your local community.
If you have helped your parents or grandparents get connected, you can do the same for somebody who is vulnerable or isolated during the pandemic.
We will put together a step-by-step guide for activities which can help people to communicate with loved ones or support them to do some activities independently. We want to develop this with people who have limited digital skills so we can be sure people would understand and be able to follow the steps.
We expect this volunteering role can be completed over the telephone, video calls, posting instruction leaflets, and COVID-secure doorstep support.
Good Neighbours COVID-19 Volunteer Buddy Scheme
Volunteer Support
To support new and existing Good Neighbours during the COVID-19 outbreak, we have a developed a series of guidance documents and videos, which we are asking all volunteers to access.
COVID-19 Good Neighbours Case Studies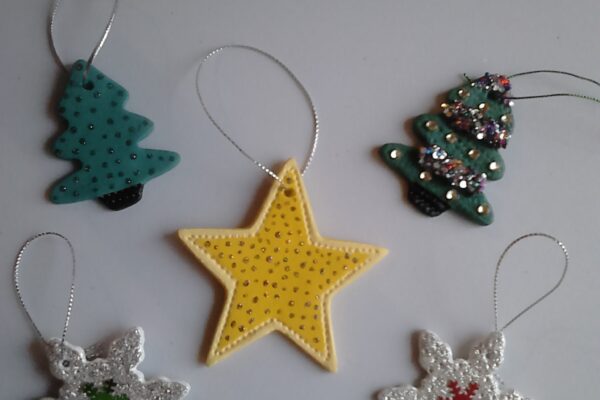 As part of North Tyneside's COVID-19 recovery, VODA has created a new Good Neighbours volunteer buddy scheme to help the support to beneficiaries take their first steps back out into the world. Each role has been created to support people with specific elements of their emergence from isolation.
Volunteer Support
All volunteers will be able to access the following support from VODA:
Telephone and email support at all times during your volunteering
Reimbursement of any travel expenses incurred whilst volunteering
Access to guidance on Safeguarding and Lone Working
All volunteers will be covered by VODA's policies and procedures.
A certificate of thanks when the dust settles!