Good Neighbours COVID-19 Volunteer Buddy Scheme
Volunteer Support
To support new and existing Good Neighbours during the COVID-19 outbreak, we have a developed a series of guidance documents and videos, which we are asking all volunteers to access.
COVID-19 Volunteering Opportunities
In light of the COVID-19 outbreak we scaled up our Good Neighbours volunteering project to help address the needs of our local communities across North Tyneside.
We received an amazing response and had over 300 volunteers sign up to help 1943 residents with shopping, prescription collections and food parcel deliveries.
We are still recruiting volunteers in a number of roles to help us to continue our support to North Tyneside's most vulnerable residents.
As part of North Tyneside's COVID-19 recovery, VODA has created a new Good Neighbours volunteer buddy scheme to help the support to beneficiaries take their first steps back out into the world. Each role has been created to support people with specific elements of their emergence from isolation.
Good Neighbours Garden Gate Buddy
Good Neighbours Shopping Buddy
Good Neighbours Walking Buddy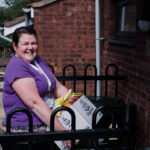 Good Neighbours Shopping and Prescription support
Due to a number of our Good Neighbours returning to work, we have been able to reopen the recruitment process for both Tier 1 and Tier 3 Good Neighbours roles.
COVID19 Good Neighbours Response Tier 1 Volunteer
COVID-19 Good Neighbours Response – Tier 3 Shopping Volunteers
All volunteers will be able to access the following support from VODA:
Telephone and email support at all times during your volunteering
Reimbursement of any travel expenses incurred whilst volunteering
Access to guidance on Safeguarding and Lone Working
All volunteers will be covered by VODA's policies and procedures.
A certificate of thanks when the dust settles!
COVID-19 Good Neighbours Case Studies