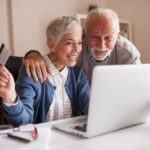 VODA's Digital Champion's project works with with volunteers to deliver digital outreach support to with people who already have a tablet/smart phone/computer and an internet connection, to make the best use of their device. 
The volunteers work with a person over the telephone to guide local residents to become better connected. Due to current COVID-19 restrictions we are currently offering support over the telephone only.
What does the role of a Digital Champion entail?
Typical tasks include:
Using email 

Online food shopping

Access online GP services

Social media

Video chat 

Download and use the COVID19 app

Stay safe online
Could you be a Digital Champion?
Maybe you have helped your parents or grandparents get connected during the pandemic. Could you do the same for somebody who is vulnerable or isolated?
You will be provided with step-by-step guides for activities which can help people to communicate with loved ones or support them to do some activities independently.
We expect this volunteering role can be completed over the telephone, video calls, posting instruction leaflets, and COVID-secure doorstep support when restrictions allow.
If you would like to get involved, you can sign up below.
Digital Champions in action
Find out more about Albert, a Moving On Tyne & Wear participant who was referred to the Digital Champions for help to improve his digital skills to enable him to search for job opportunities online. In only 2 weeks he went from being able to send the odd text message to using email to register accounts on websites, attaching documents to emails and even shopping online. Read Albert's story here.
Refer someone for support from a Digital Champion
How to guides
We've created a series of How To digital guides to support you with: