Three North East support charities have launched a new e-learning resource for trustees. 
Funded by the National Lottery Community Fund, Elements Training Portal has been developed by Connected Voice, North Tyneside VODA and Northumberland CVA, who have been working in partnership since 2019 to help trustees overcome challenges such as capacity and geography by giving them the opportunity to access quality e-learning 24/7 from wherever they have an internet connection.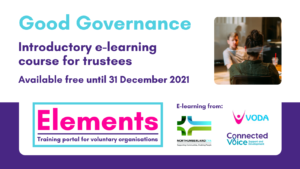 New trustees looking for an introductory course to support their work, will be able to sign up to the Elements Training Platform and study its 'Good Governance' course in their own time and at their own pace, and can fit their learning around their schedule and priorities. And what's more, until the end of December 2021, trustees will be able to access the 'Good Governance' course free of charge.
Giovanni Spatuzzi, Strategic Partnerships and Operations Manager at Connected Voice said, "Most individuals who become trustees don't start out with a well-developed knowledge of governance issues. Instead, they start out with a vitally-important passion for the work of the organisation, and the governance side of things is something they must learn along the way.
"Although we're just getting started, we want Elements to become the go-to place for people in our sector across the North East, whatever their role, to find flexible, interactive e-learning opportunities that offer a good basic understanding of subjects such as good governance, volunteers and the law, and good fundraising to support them in their work.
"'Good Governance' is our first course. It is suitable for new trustees and also for existing trustees who are looking to refresh their knowledge. We'll be adding new courses very soon."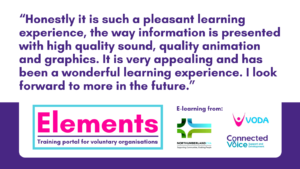 Connected Voice, North Tyneside VODA and Northumberland CVA are all well-established and respected membership charities offering local infrastructure support to voluntary, community and social enterprise organisations in their respective communities across North of Tyne and Gateshead.
The partnership has a combined membership of over 1,500 organisations, with around 3,500 trustee-led charities covering their geographical areas, so we're anticipating a high demand for the Elements Training Portal.
As well as this new Elements Training Platform, each of the partners also offers a range of other information, training and support.  If you're in North Tyneside, you can contact VODA for support: email [email protected] or call 0191 6432626.
To register on Elements and study the 'Good Governance' course free, go to: https://elementstraining.teachable.com/