North Tyneside Council has put together a video showing how VODA has mobilised an army of volunteers to support the council during the crisis.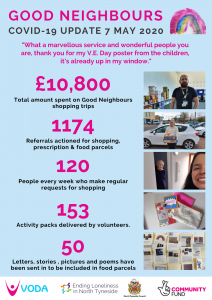 VODA has been working with the North Tyneside Council Support Hub since March, which has so far has helped more than 3,200 residents.
In that time, we have signed up over 250 new volunteers and responded to 1174 requests for help. Volunteers have been doing people's shopping, collecting prescriptions and delivering emergency food parcels.
Robin Fry, VODA's Chief Executive commented: "I'm really proud of the work we're doing with the local authority, our staff team, but mostly proud of the volunteers, because without them we wouldn't have been able to support those residents who need the most help at the moment."
We've had some amazing feedback so far from our beneficiaries…
"I really appreciated someone's help when I needed it. It is a wonderful service that you are all doing to help vulnerable and needy people in the community."
"Thank you to Claire for the wonderful volunteer you provided me with for my weekly shop. Debra is both kind and caring and only one of two people I speak to directly each week while I'm in total Isolation,and a lifeline for me."
"Wonderful service, the kindness and empathy of people really takes my breath away. You are a real dose of tonic.  Liz, my volunteer is great always has time for a chat and is always so cheerful, nothing is a bother for her."
"Paul the volunteer is a darling a very kind man, he always has time for a chat and ask me how I am.  You are all brilliant thank you so much."
"Joanne my volunteer is a joy and so cheerful, she is my regular volunteer and I really look forward to her visits and little chats from the garden gate.  I really appreciate all you are doing for me, thank you."