On the 4th of March, The Islamic Cultural Centre in Whitely Bay hosted a one time COVID-19 vaccination hub to encourage vaccine uptake amongst the Muslim community in North Tyneside.
According to the ONS (Office of National Statistics) people from ethnic minority communities are less likely to take the vaccine when offered it. One of the ways in which local communities are acting to encourage uptake is by hosting vaccination clinics in places like mosques, churches and community centres.
Syed Al-Amin has been the Imam at Whitley Bay Islamic Cultural Centre for 10 years. He said:
"I feel totally positive about vaccinations, they are the way out of the virus.
"There has been a recent spike of COVID-19 and with a few of our South Asian communities living in multigenerational households, we need vaccinations to protect people.
We know misinformation is spreading through social media which is why it's important for people that are influential within communities to speak up positively. Using community spaces like mosques as vaccination clinics is also a good way to encourage vaccination uptake and dispel any doubts that the vaccine is unsafe."
The Vaccination Hub was organized through a joint effect by North West North Tyneside PCN led by Habib Jiwa and Community Leaders from the Islamic Cultural Centre in Whitley Bay – Misbah Hannan and Syed Al-Amin.
The leaders of the Mosque wanted to persuade members of the Muslim community to get vaccinated and they also wanted to offer the vaccine to their Whitely Bay community. So they put up posters in local shops and asked people to get in touch if they were eligible group to be vaccinated and hadn't already booked an appointment.
Abdul Jalil was the first of 66 people that were vaccinated on the day, in what was a successfully and smoothly run vaccination clinic that operated from 9am to 11am. Habib Jiwa and Nadia Salim acted as the vaccinators  – allowing Muslim women the choice of a female vaccinator so as to make people feel as comfortable as possible.
Judith who was also vaccinated on the day said that the nearest vaccination clinic she could book in was in Durham and Darlington and so when she saw the opportunity to be vaccinated locally she was relieved and took it up.
Another person who visited the clinic, Sadia, brought her mum Shahkahanom to be vaccinated on the day. Shahkahanom said she felt positive about the experience and that it was really quick.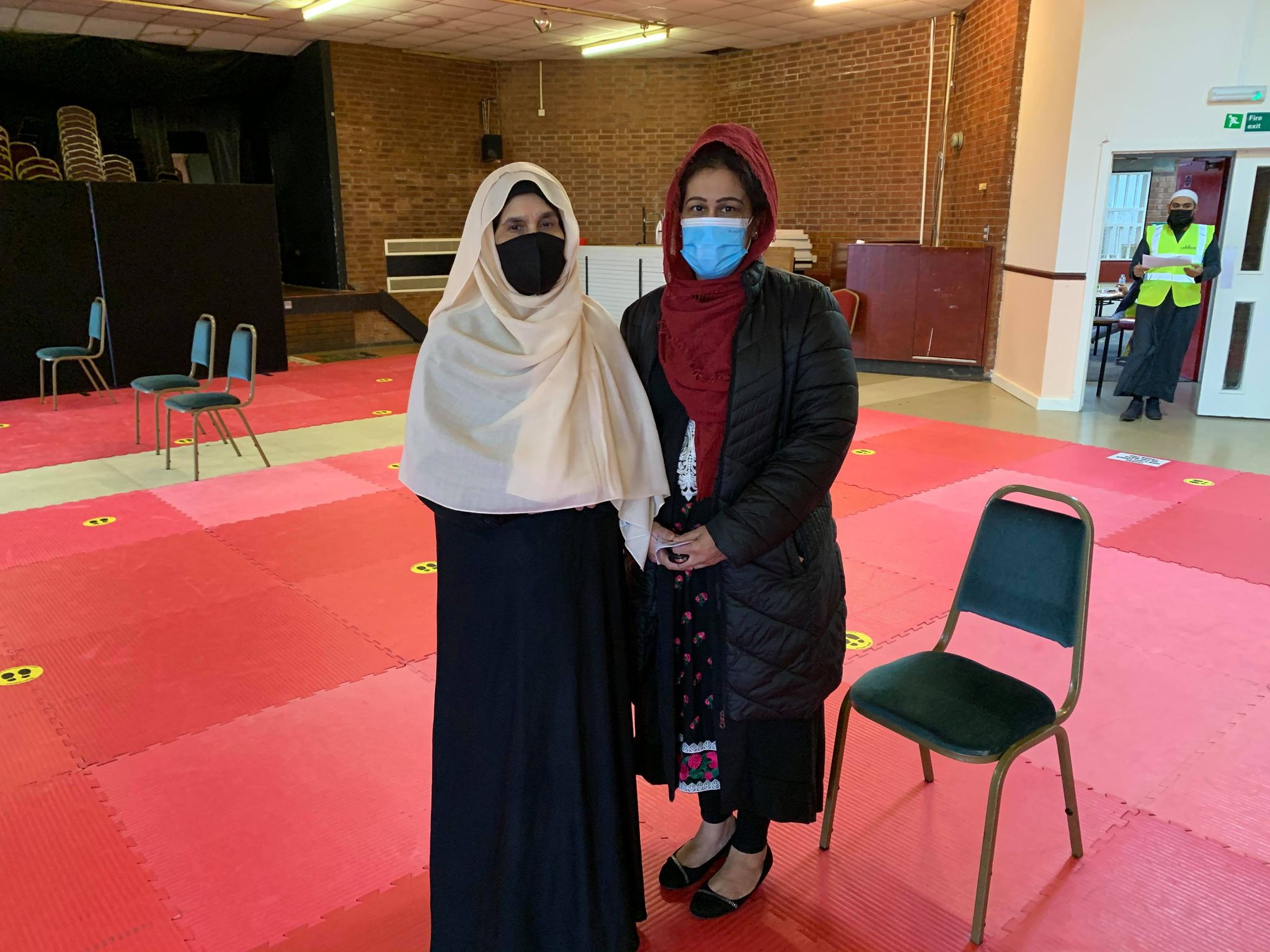 Habib, one of the vaccinators and organizers, spoke of the advantage of holding the vaccination hub at the mosque. "Hosting it at the mosque is an acceptance of the local community, that this is not something that exists on WhatsApp.
That it's not something that exists in the media. This is something that happens right here, right now in our community. And if the Mosque are taking this on board, they are accepting responsibility and they are telling the local community this is something that we want to get behind. This (hosting the clinic) is a big step and part of that."
Watch Community Champion Worker Alice, speak to vaccinator Nadia Salim about the vaccination clinic: