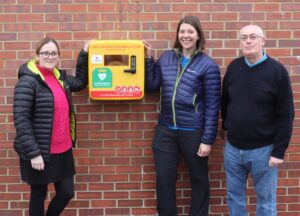 Linskill and North Tyneside Community Development Trust is delighted to announce the installation of two additional defibrillators for use by the local community.
Through a grant with the British Heart Foundation, the Linskill Centre was the first of the Trust's three sites to install a defibrillator in 2015. The two new units are now erected outside the satellite sites at Battle Hill multi use Centre, and Royal Quays Community Centre and were purchased by the Trust to complement the provision across all three sites.
Simeon Ripley, CEO, Linskill and North Tyneside Community Development Trust, said:
"These two additional defibrillators will be a huge benefit to both our customers and the communities we serve, as they are positioned externally in public places, where anyone can use them."
When people fall ill in the community, even with well-performed CPR their chances of survival are around just six per cent, but if a defibrillator can be used by a bystander within three minutes it can increase a patients' chances of survival by up to 74 per cent.
The defibrillators are registered with ambulance services so the location is known to the control centre when 999 callers report a cardiac arrest emergency.
Pictured L-R: Louise Ackroyd, programme participant, Lucy Fenwick, LNTCDT Community Development Worker, and Dave Patterson, Shed Volunteer