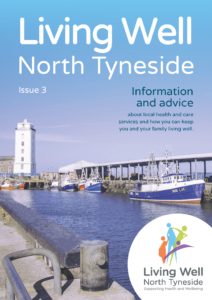 The Living Well North Tyneside partnership has published a third edition of its popular health and wellbeing magazine, packed full of information and advice specifically for people living in North Tyneside.
The magazine will be delivered throughout March to every home in North Tyneside. A digital version of the magazine can be downloaded as a pdf here.
Healthwatch North Tyneside has led the production of the magazine on behalf of the partnership.
The spring edition includes useful information about local health and care services from a variety of organisations who are working together to provide local people with information to keep themselves and their families living well.
The magazine complements the Living Well North Tyneside website, which offers a searchable directory with information about hundreds of health, wellbeing, social care and community organisations serving North Tyneside, the services they provide and the activities that you can join in with.