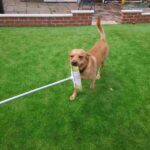 David is a participant on the Moving on Tyne and Wear (MOTW) programme, who is supported with interaction, confidence and searching for a volunteering opportunity.  He left school quite early as he struggled with social anxiety and those same issues still play a huge part in his everyday life.
After meeting David for the first time it was clear that his worries and anxiety prevented him from joining in, so this fell on his parents. When the Covid-19 lockdown came around in March of this year, and MOTW began working remotely, most of the usual face-to-face appointments went to phone appointment.  But this was not suitable for David and his needs, so his Job Coach, Kayle, suggested they used online chat instead.  This allowed David to chat freely, think about his answers and not feel under pressure; all of which reduced his anxiety and began to boost his confidence.
"I had a very bleak outlook on life and had trust issues with people in general. I still do most days. But the fact that there are people trying to help motivates me to help myself more."
At the first appointment the conversation flowed, and David and Kayle chatted about many things, but in particular about his love of animals and his best friend Kodi.  Kodi is a very fun and loyal Labrador and he has helped David immensely since he came into his life over 5 years ago.  When David first brought Kodi home he had no choice but to leave the house, on his own, to take him for a walk.  He now walks him up to three times a day and often says 'Hello' to the regular fellow dog walkers he sees – this is a huge achievement for someone who would actively try and avoid interacting with other people!
Just over a month into lockdown it was clear David's confidence was beginning to grow as he asked if he could start a mental health awareness distant learning course.  The course helped him to understand his mental health and he has now gained his certificate, something he never would have thought would be possible. This was yet another positive step for him, and his confidence continued to grow.  During Mental Health Awareness Week, Kayle asked David if he would like to answer some questions about how Kodi has had a positive influence on his life so MOTW could share his journey with others.  His response was honest, funny and personable and he has since expressed an interest in volunteering with animals as he wants to lead a life he loves.
Putting himself forward for volunteering opportunities makes everyone at MOTW incredibly proud, it is such a huge achievement for David as he didn't think he would ever be open to doing something that required him to be around others! We just need to wait for lockdown restrictions to ease and then hopefully he will be able to help out at Ouseburn Farm. In the meantime, David has signed up to an online Level 3 Animal Care course and is about to finish a Life Skills course with Learn Direct.  He is also considering volunteering with the RSPCA to provide valuable online social media support.  We're honoured to have played a part in David's journey, and his progress is most importantly about how his confidence has improved so much; he is able to put himself forward for courses and volunteering, continuing to move forward, look to the future and feel better about himself.
"This programme came out of nowhere for me and it made me realise that there are different paths that can be taken and still a possibility of things getting better as long as I'm here trying. So even though this pandemic has been bad, there's been a silver lining at least for me."
This project is joint funded by the European Social Fund and The National Lottery Community Fund