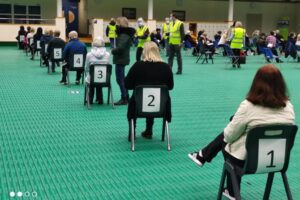 VODA has teamed up with local GP Surgeries and North Tyneside Council to offer support to people struggling to take up their vaccine in North Tyneside.
There are a number of reasons that lead to someone missing their vaccine slot, they may be shielding, are vulnerable or have no one to help them get there.
To help people who are struggling to attend, VODA will provide a volunteer to accompany the patient through the vaccination process. These volunteers are already volunteering at the clinics so are very familiar with the process and can provide reassurance and support to someone who may be too nervous to go on their own. We can also help organise transport if that is a barrier to them attending the clinic.
" It is vitally important that we provide every opportunity for people to take up their vaccine, we want to make it as stress free and easy as possible for those who are vulnerable or anxious about attending the clinics," said VODA's Keith Hardy, Core Services Manager responsible for delivering the project.
Referrals can be made via the North Tyneside Council's Local Support Service T:0345 2000101.