We've had an incredibly busy start to June at the Grow & Eat project, delivering engaging workshops and outreach sessions to residents as well as highlighting #GreatBigGreenWeek.
Oyster Mushroom Workshop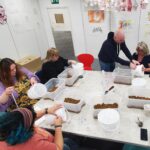 We had a brilliant time at our Oyster Mushroom growing workshop at North Tyneside Art Studio in Wallsend. Hosted by our brilliant volunteer Phil McIntyre, five eager participants, learned the art of cultivating Oyster Mushrooms right in the comfort of their own homes. Phil expertly guided them through the step-by-step process, using straw pellets and mushroom spawn he had prepared. The participants left with newfound knowledge and excitement, eager to harvest their own delicious mushrooms. Due to its success, we plan to hold another session later in the year. Make sure to follow our social media channels for updates.
Planter-Building Workshop
Next up was our planter-building workshop at the Barn Joinery at Meadow Well Connected. The instructor for the day was Kurt Dempsey and there were participants from YMCA North Tyneside and a volunteer from LD NorthEast. Kurt shared valuable safety tips, demonstrated the proper use of different tools, and showcased various sawing techniques for timber preparation to put tougher our planters for our community gardens.
By utilising recycled pallets, we stayed true to our commitment to the Reduce-Reuse-Recycle principles, ensuring sustainability remains at the heart of our endeavours.
Great Big Green Week
At Grow & Eat, we are deeply conscious of our impact on the climate. That's why we wholeheartedly embraced the opportunity to take part in the Great Big Green Week from 10th to 18th June.
Wallsend Library Takeover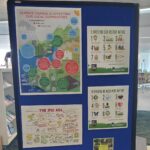 The wonderful team at Wallsend Library was incredibly helpful to Vicky, our Grow & Eat worker, putting up a very informative climate display about the climate and suggesting a range of books for all ages to raise awareness of environmental issues.
Vicky even took the stage during story time, inspiring young listeners and their parents to reflect on their love for the Earth and discover ways to contribute positively.
Engaging with the Community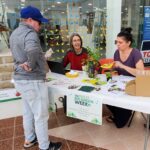 During the Great Big Green Week, Vicky joined forces with Hannah, our Volunteer Centre Coordinator, to engage with the community of Wallsend at the Forum Shopping Centre.
Together, they distributed over 70 packets of lettuce seeds, generously provided by our wonderful friends at Meadow Well Connected, to give everyone a chance to experience the joy of growing their own fresh greens at home.
Not only that, but they also took the opportunity to shine a light on the incredible North Tyneside community gardens and the fantastic volunteering opportunities they offer. Sharing valuable advice on growing flowers, vegetables, and herbs, inspiring everyone to get involved in their local green spaces.
Start Your Green Journey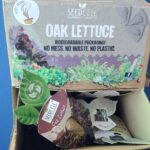 Remember, you don't need a huge garden to embark on this green journey. Even if you only have a windowsill, you can cultivate your very own mini oasis! Join Grow & Eat in cultivating sustainable living practices and experiencing the joy of nurturing nature.
To learn more about the work of Grow & Eat, visit voda.org.uk/grow-eat or reach out to Vicky directly at [email protected].