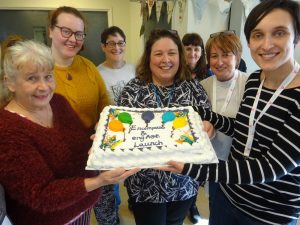 The Linskill Trusts's engAGE (55+) and Encompass (adult provision) programmes were officially launched last week, with over 80 people defying the inclement weather to attend the Open Day at Battle Hill Multi-Use Centre.
Funding officers from the National Lottery Community Fund joined representatives from regional voluntary sector organisations and residents to launch the event, featuring a range of free art and craft taster sessions. Many visitors took the opportunity to try their hand at painting, paper weaving, knitting, crocheting and card making activities.
A pop-up café served up refreshments, including freshly baked scones to enjoy with a coffee, whilst meeting and chatting to new people and fellow residents. Information displays on engAGE and Encompass activities and other local initiatives including North Tyneside Art Studio, VODA, North Tyneside Active and Remembering the Past formed a mini market place for residents to see what is available and how they can get involved.   and local heritage projects.
Following grant support from the National Lottery Community Fund the Trust has secured the appointment of two project workers to deliver the engAGE (55+) and Encompass projects over the next two years. A key objective of the event is to bring people together and engage with them face-to face, gathering input and views on current and future provision, whilst providing the opportunity to talk to the Community Development Team.
Simeon Ripley, Chief Executive of Linskill and North Tyneside Community Development Trust commented, "It was great to see the centre full of people and there was a real feeling of energy and a good vibe. Having worked in the voluntary sector for many years it is days like today that are most satisfying, when you see a plan come together and the effort that goes into funding applications is rewarded. As a Trust our aim is to rejuvenate communities in North Tyneside and today the people of Battle Hill have shown the need for community activities through their support and attendance. I am looking forward to watching the programme being delivered and the impact it will have on this community."
For more information on the Battle Hill Multi-Use Centre and its community programmes please email [email protected] or call 0191 257 8000.