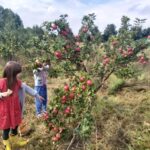 Meadow Well Connected is reopen and offering the community a Covid secure space.
They are running I.T sessions and help with looking for work Monday to Wednesday -9am until 2pm, each session is for 1 hour and must be booked in advance.
Their Kid's Club for ages 8-13 runs every Monday to Thursday from 3.30pm until 5.45pm – this must be pre-booked.
They are also running a 'Well Together' project which focuses on mental and physical wellbeing by providing a range of activities such as Yoga, Creative Writing and Art.
For people who are experiencing difficulties with alcohol, the centre has a specialist 1 to 1 Alcohol Worker who can provide support either over the telephone or face to face via a pre-arranged appointment.
The Meadow Well community garden is open to the public every Tuesday, Wednesday and Thursday.  There is a great team of volunteers and lots of
future plans for our outdoor space.
The café has also reopened and can be accessed 10-3 everyday.
If you would like to come along to any of these activities please call 0191 3410033 or email info@meadowwellconnected.org.uk