As is the story of most events in 2020, we had to take VODA's AGM online. Although we were unable to get together for our usual gathering of friends and colleagues from across the sector for a catch up and buffet, we could still take the time to celebrate the successes of VODA and the North Tyneside VCS.
---
Trustees & Annual Report
As part of the AGM business, VODA was delighted to welcome two new trustees to the board – Phil Hornby and
Andy Burtenshaw, while we said a fond farewell to Rob Gibbons, who has been a fantastic advocate for VODA. There was the presentation of VODA's
Annual Report 2019 to 2020
and supporting animation.
---
Panel Discussion on the impacts of COVID-19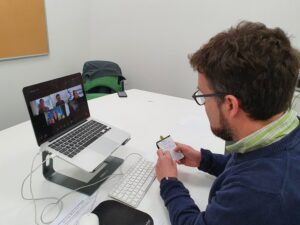 We also could not avoid the hot topic of the year, which although technically occurs in our next financial year, we felt it was important to recognise the impact the COVID-19 pandemic has had on the people, groups and organisations in North Tyneside.
We were delighted that BBC Journalise Luke Walton agreed to host a panel discussion featuring LD:NorthEast, Walking With in North Tyneside, The Community Foundation Tyne and Wear and Kerry White, a Good Neighbours beneficiary turned volunteer who kindly shared her personal experience of the pandemic.
You can watch the panel discussion here:
---
Voices from behind the door
We were honoured to premiere a new spoken word piece by local writer and director Alexandra Woolley about the impacts of COVID-19 on the community. @
twitter.com/woolleyjumper1
---
AGM Feedback
Andy Butenshaw, newly elected VODA Trustee: "Thanks, it has been an incredible session and particularly moved by the end piece as already the first lockdown feels a long way behind us.  Enjoyed the panel discussed and especially hearing from Kerry, whose experiences are very different from my own.  Great pride in becoming a Trustee for VODA and determined to support and encourage the organisation to face and meet the challenges ahead."
Charlotte Mulvaney, Linskill Centre: "It's been a really great engaging meeting – lots to take away, big thanks from Linskill."
Wayne Dobson, Cedarwood Trust: "Wow…. lost for words…. thank you, this year has been such a blur the piece really hits home the journey of 2020.. fantastic AGM."
Laura Lowther, St Oswald's Hospice: "Really powerful piece – deserves as wide an audience as possible. FANTASTIC stuff from VODA, it's projects and partners."