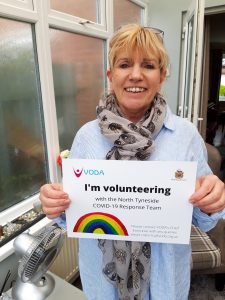 The UK Government paused shielding in England as of 1 August 2020; however, VODA's Good Neighbours are still around to help with shopping and prescriptions for those who are still unable to go out. VODA is keen that as part of North Tyneside's COVID-19 recovery the support to beneficiaries will go beyond providing shopping and they have created a number of new exciting volunteer buddy roles to help people take their first steps back out into the world.
Josie Robinson, VODA's Ending Loneliness Coordinator commented: "We quickly realised after talking to beneficiaries and volunteers that people are very anxious about coming out of isolation and returning to the world. A lot has changed since the lockdown and they are nervous of the unknown, concerned about safety, don't know the correct protocol for shopping and visiting places and many other things. Some people have spent the whole of lockdown on their own, many suffering from loneliness and isolation. We are keen to see how our amazing Good Neighbours volunteers can support this progression back into the world with these new volunteer buddy roles."
Good Neighbours Garden Gate Buddy: volunteers will offer a much needed socially distanced chat with a local resident who is feeling socially isolated. https://voda.org.uk/opportunity/good-neighbours-covid-19-garden-gate-volunteer-746/
Good Neighbour Walking Buddy: volunteers who will be there to enable residents to get outside again, explore the local area and regain their confidence with walking. https://voda.org.uk/opportunity/good-neighbours-covid-19-walking-buddy-744/
Good Neighbours Shopping Buddy: volunteers who can help support someone from who has been shielding to go out shopping for the first time since lockdown. https://voda.org.uk/opportunity/good-neighbours-covid-19-shopping-buddy-volunteer-745/
The new roles have been trialled by Good Neighbours' Volunteer Paul, who provided feedback on how to ensure they work best for both the volunteer and beneficiary.
Paul commented: "I find my role as Shopping Buddy to be incredibly rewarding as I get to see the direct benefit this has on the individual and take great pride in seeing his confidence develop and independence restored.
"Upon first arriving at the shop, my beneficiary was extremely anxious and wasn't sure if he could cope. After listening to his concerns and providing reassurance that we were doing this as a team, we began shopping. I followed behind him at a 2m distance, helping to watch his back for any space-invading shoppers and guided him around the one way system. As his anxiety was causing him to forget things, I was able to prompt him for items he may have missed. He was exhausted once we reached the checkouts and the support I gave him by packing the shopping was very welcome… as was his smile and sense of achievement to me." If you would like to be a Good Neighbours Buddy, please email josie.robinson@voda.org.uk.
All roles will be carried out following current social distancing guidelines.