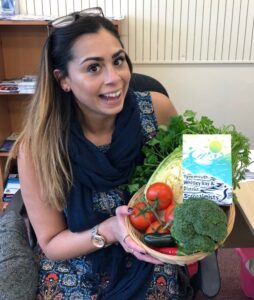 Before the pandemic, Rebecca was a SAINT – that is she was the Supported Volunteering Development Officer for VODA's Social Action in North Tyneside [SAINT] project. SAINT supports people with barriers to volunteering by developing their ideas into accessible activities and projects which directly benefit the local community. However, since the lockdown she has been working tirelessly to help North Tyneside's most vulnerable residents during these challenging times.
Rebecca reflects on the impact of COVID-19 on her role and how she is planning the best way to take SAINT forward in our new socially distanced reality.
How has your role changed due to COVID-19?
Back in March we were making plans to develop a diabetes support group, sewing fidget mats for people with dementia, planning to make bird boxes, developing a social media and blogging guide for people with mental health conditions, and putting together a celebration event as the project drew to a close. Many of our activities took place in community venues, which all had to stop because of COVID-19.
When lockdown happened, VODA redeployed me to work with the COVID-19 Good Neighbours response team. I spent the first few weeks of lockdown speaking to some of the 100's of new volunteers, getting them registered and sending out relevant information. Once the initial surge of volunteer registrations settled I joined the matchmaking team to allocate jobs such as shopping and prescription collections to volunteers.
What lessons have you learned?
The whole of VODA quickly adapted to provide information, advice and support as well as coordinating 100's of volunteers to collect prescriptions, deliver food parcels, go shopping and compile activity and wellbeing packs. The last few months have been extremely busy, but it has shone a bright light on what we can achieve working together with volunteers.
Anything is possible with teamwork and a can-do attitude!
What do you think you would have done differently?
I don't think there is a right or wrong way to do anything in such unprecedented times.
How do you see your role as we move towards the recovery phase?
Community work will be very different during this pandemic so we will have to consider what can be done from a safe distance. We want to do something else to make a difference in North Tyneside and retain our brilliant new volunteers and re-engage them into social action projects. We need to explore remote and digital platforms to assist with engagement and participation.
What do you feel is your biggest achievement during this crisis?
I am proud of the supporting role I have provided to my colleagues. I have been flexible and capable at switching tasks and coping with change. I feel privileged to have been able to continue to work during such uncertain times and to be in a position to help vulnerable and disabled people.
What was your biggest challenge (so far)?
We had people in crisis, people struggling, people cut off from their families and friends. Sometimes we had to have difficult conversations about what support was available.
Anything else you would like to add?
Thank you to the volunteers who have selflessly given their time to help others. To the volunteers who always say yes, to the volunteers who do what they can to help their community.
Have you had any new ideas how we could make a difference in North Tyneside? We could make masks for indoor spaces; litter pick, community outreach, crafts, socially distanced meetups, acts of kindness. If you have a plan or an idea, get in touch and let's see what we can achieve together!