Look up!! A flock of nearly 140 Pigeons* has swooped in to help to protect our communities in North Tyneside by helping to share trusted messages about Covid-19!
Our 140 Community Health Champions (*affectionately known as Pigeons) have been doing a phenomenal job of helping to make
sure key updates about the vaccination programme and changing restrictions are communicated across North Tyneside. They
continue to be our eyes and ears on the ground passing on questions, worries and feedback from across the borough which means
we are able to make sure we are able to know what information and answers we need to provide to help people move through the
pandemic as safely as possible.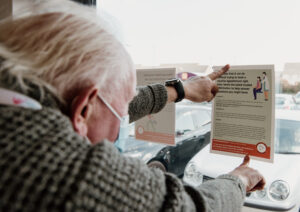 Our Champions have helped out by featuring in videos to share what it means to them to have had the vaccine, handing out posters and leaflets in their local areas, by sharing messages on their own social media – and more!
The Pigeons have been absolutely instrumental in helping to share crucial health messages, acting as positive role models and trusted voices in their communities, throughout the pandemic. Collectively they reach nearly 2000 people across the borough every week which is no small feat!
It's been really lovely to hear from several Champions that their friends/family members now recognise them as a trusted person to get information about the pandemic from, and that it has meant many more people have reached out to them for this.
"At a time when trusted information can mean the difference between becoming gravely ill or being able to stay safe – we are so incredibly grateful to all the Champions for the role they have played in helping to protect our community, and we absolutely could not have done it without them!"
Alice & Safiah, Community Health Champions Team
Some of our Champions shared what it means to them to volunteer!
Feedback/appreciation from the community:
"Coming from Voda I knew it was trusted information from the GP practices and that makes all the difference at the moment. There are lots of scams so it was good to hear about them. You don't know what information to trust when you have been in the house for so long."

"Huge respect and love to all the tireless and deeply passionate volunteers at Champions for encouraging and supporting so many at this extremely difficult time out of love, compassion and awareness of those highly vulnerable and in need. Long may it continue!"

"Thank you so much for looking into the information about the vaccination programme for me I really appreciate it. You are all amazing."