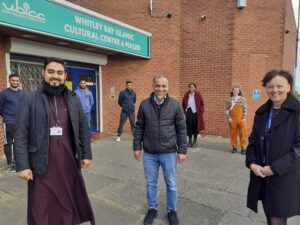 A new COVID-19 test site has been set up at the Whitley Bay Islamic Cultural Centre to encourage regular testing for those without symptoms in all North Tyneside communities.
North Tyneside Council and VODA (Voluntary Organisations Development Agency) have supported the centre in Whitley Bay with advice and training to set up its own testing site.
It's part of the local authority's work to make sure testing is accessible and easy for all, which has also seen sites set up in schools, large workplaces, community buildings and even in the borough's fire stations.
With results processed within an hour, the testing aims to quickly identify those with the virus, but without symptoms, who could unknowingly pass it on to others.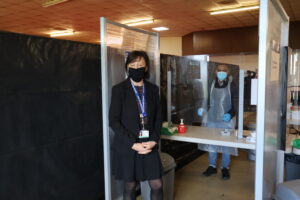 After visiting the centre, North Tyneside Director of Public Health, Wendy Burke said: "One in three people with coronavirus don't display any symptoms, so this testing has a role to play in breaking the chain of transmission and preventing outbreaks in the borough.
"We'd encourage everyone in North Tyneside to get into the habit of twice-weekly testing as part of our everyday lives. It helps us all to play our part and do what we can to keep each other safe and, alongside the vaccine, ensures we can continue to ease our way out of lockdown.
"It was brilliant to see the testing site in action at the Islamic Cultural Centre and hear how well it is going. I'd like to thank them for their unwavering support during the pandemic, which has also included sharing information with their community and their brilliant work in promoting vaccine uptake and hosting a pop-up vaccine clinic."
Misbah Hanan who is the community leader at the Whitley Bay Islamic Cultural Centre said: "So far people are responding well to having access to testing in a place they feel comfortable and we want to continue to spread positive COVID-19 messages after Ramadan. Getting tested regularly is so important in order to stop the spread of the virus, and therefore in protecting our friends, families and communities. The centre is open to everybody, and so I'd encourage everyone to please get tested."
Imam Syed Al Amin reiterated the importance of people getting tested, saying: "One in three people have no COVID-19 symptoms and aren't aware that they are spreading the virus. It is important for people within our community, especially those on the frontline, including those working in the restaurant trade and as taxi drivers, to get tested. You will receive your test results within the hour and if you do have the virus you can get support from your local council."
Testing is available at the centre on Rink Way, Whitley Bay, every Monday, Wednesday and Thursday, 11am to 1pm and 2pm to 3pm.
All residents without symptoms can access free regular coronavirus testing several ways, including in person at the Riverside Centre, North Shields, from over 40 pharmacies in the borough, through the post and more. For full details click here.
This testing is for those without symptoms. Anyone with symptoms, which includes a new continuous cough, change or loss of smell or taste and/or a temperature, should self-isolate immediately and book a test via www.nhs.uk/coronavirus or call 119.