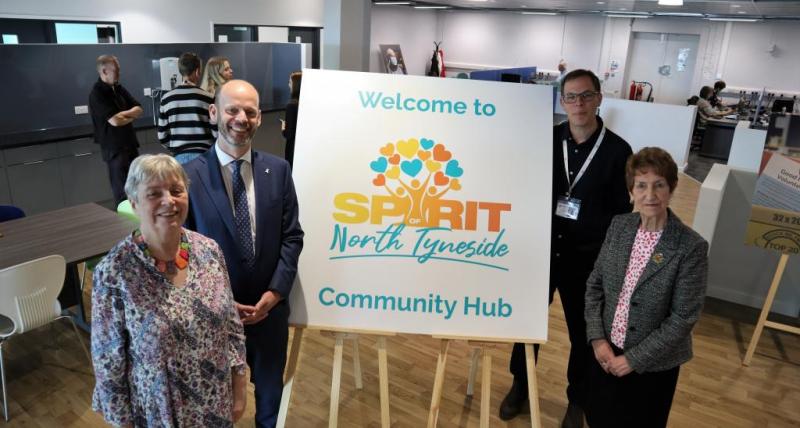 Local leaders gathered to mark the official opening of the 'Spirit of North Tyneside' hub, an innovative hub designed to boost the voluntary and community sector in the borough.
Located on the second floor of the Wallsend Customer First Centre, the hub has become home to charity VODA, which provides support, advice, and training to the borough's charity sector and is open to other voluntary and community sector organisations.
The needs of the voluntary sector are at the heart of the hub's design, with co-working opportunities, virtual conferencing, training facilities and creative break-out areas all available for use.
The Spirit of North Tyneside Hub will become a focal point for the development of new social action activities and aims to strengthen local partnership and networks, build staff, and volunteer capacity and strengthen governance and leadership across the sector.
For voluntary and community sector organisations costs are a big consideration. The hub offers flexible office spaces and affordable back-office services such as payroll, accountancy, printing, and HR advice to help reduce costs and allow funding to be spent delivering vital services to the borough's residents instead.
The ground-breaking hub has been made possible thanks to significant investment from North Tyneside Council and the North of Tyne Combined Authority. The North of Tyne Combined Authority has awarded £250,000 for the development of the new hub on the top floor, with a further £50,000 to support its development over the first couple of years.
Norma Redfearn CBE, Elected Mayor of North Tyneside Council, said: "The opening of this innovative hub marks a real step forward for the Voluntary and Community Sector in North Tyneside. A place where organisations can access technology and services to support them to grow and deliver their vital services to our residents.
From the initial plans through the final result everything has been specifically designed with the organisations in mind. I'm extremely proud of what we've achieved working with VODA and North of Tyne Combined Authority on this project. I'm certain it will be well used."
Robin Fry, Chief Executive, VODA and North of Tyne Combined Authority Mayoral Ambassador for the Voluntary, Community and Social Enterprise Sector, said: "Our ambition is to create a dynamic Community Hub that becomes the centre of excellence for Voluntary, Community and Social Enterprise sector (VCSE) organisations across the borough.
"We know how vital a strong VCSE sector is to the health and happiness of people living in North Tyneside. The Hub will offer a range of affordable 'back-office' services such as payroll, accountancy, printing, and HR advice.
Mayor for the North of Tyne, Jamie Driscoll, said: "There are no 'frontline services' without 'back offices'. Our local voluntary sector does invaluable work, often with vulnerable residents. But thriving community organisations have basic needs. These might be IT or payroll services, decent tech, or office and meeting space. Funding this hub will help charities and community groups focus more resources on residents – and less on rent and office overheads."
Wallsend Community First Centre is already a thriving hub of vital services. As well as a library and customer services ran by the council, the ground floor is home to care and connect, Citizens Advice bureau, NHS recovery Partnership Team and most recently, Wallsend Neighbourhood Policing Team.
VODA's sector connector project will also be based on the first floor, helping to draw in additional pro-bono support from businesses including master classes, mentoring, and maximising volunteer opportunities.
Ends
For more information on accessing the services of the hub, please contact Katie Snowdon at [email protected].