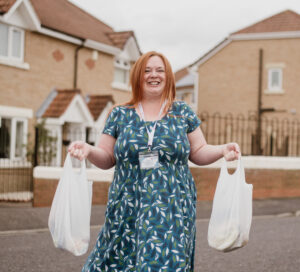 Sherrill moved to the North East from Cambridge four years ago. She had worked in recruitment for many years, but decided it was time for a change, as she didn't feel like she was really living life. So, one day she decided that there had to be more to life than working crazy hours, paying the mortgage and living for the weekend, so she put her flat up for sale, handed in her notice at work and moved up north to be closer to her best friend of 40 years!
Sherrill absolutely loves living up here, she said: "I'm surrounded by beautiful coastal scenery and fabulous, friendly people, plus I've discovered brown ale, stotties and the Lindisfarne festival, what more does a girl need?"
The Covid-19 pandemic put Sherrill's plans to convert a van and travel round the world on hold. so instead she turned to volunteering.  Sherrill initially downloaded the NHS Responders app so she could start volunteering, but there were some teething problems and no one contacted her, then her neighbour told her about the Good Neighbours scheme, as he had been helping to deliver food parcels.
Sherrill started off helping with prescription deliveries and food shopping via Good Neighbours for people who were high risk and self isolating. She then progressed to becoming a volunteer driver for the Family Gateway and working in the Howdelicious cafe at the Howdon hub. She also helps out there in the kitchen Monday – Friday helping make up the free meals that are delivered to vulnerable families in the local area. Sherrill said the charity are doing amazing work and she finds it so rewarding personally to know she's able to help people. "I still find it crazy to think we live in a world where people are struggling to get food!"
Sherrill was also one of the first volunteers to become a Garden Gate Buddy. She and her buddy met on a weekly basis from August to October, which worked really well. The lady she visited was very down to earth and independent, but had been stuck inside her flat for over a year due to very bad arthritis in her legs and feet. So, Sherrill would sit in the lady's garden with her. Sherrill said Josie Robinson at VODA did a fabulous job matching them together as they had so many things in common and both loved a good chin wag.
Sherrill has really enjoyed being able to help people wherever she can. Just being able to listen and empathise with someone means so much to them and to her!
"I'm a huge believer in remembering that you never know what someone is really going through and a small act of kindness could make someone's day and put a smile on their face!! The pandemic has affected everyone's mental health and I've met so many lonely people, who literally just want to have a chat with another human being, in person, so I've been happy to oblige!
"On a personal note, I live alone, so I was also starting to feel very isolated and cut off from the world, unable to socialise, meet friends, go to my festivals (which I love!), so volunteering has truly helped me both mentally and physically. I really am grateful for it!
"If you have the time, I highly recommend volunteering! It's such a lovely, rewarding feeling, knowing you've helped someone and more than likely made their day, week, maybe even month!"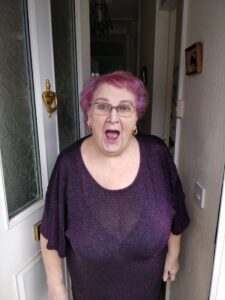 Sherrill has been shopping for Sylvia for the last three months. One week, Sylvia saw adverts on TV advertising pink hair dye and was very keen to get the look herself. Sherrill got her a semi-permanent dye to begin with, but it only lasted a couple of washes so Sherrill went out again and bought her a permanent one. Sylvia now loves her pink/purple hair (see photo to left of Sylvia with her new hair colour).
Once Sherrill bought both of them a bunch of yellow roses as they were both feeling down.
"Volunteering for Sylvia has helped me. I regularly look forward to doing her shopping as she always puts a smile on my face. Sylvia is a ray of sunshine; she is easy to talk to, very funny, laid back and says what she thinks. Sylvia had not been out for the whole of lockdown but has managed to see a friend recently and found it really nice getting out. Sylvia is very open about feeling low sometimes, but by the end of the conversation we're laughing."