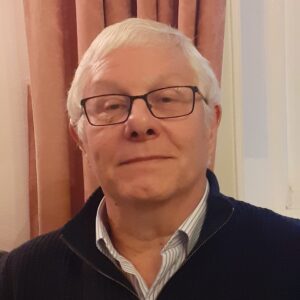 Andy is an 'ex Southerner' who has lived in the North East for more than 20 years. He has more than 30 plus years' experience of working in HR, most recently at Teesside University and Gateshead Council.
Lockdown came and Andy wanted to do something to help and keep busy. He didn't feel he knew his local area that well having worked in different localities so it was an opportunity to engage with where he lives.
Andy had always enjoyed meeting people as part of his job. Initially, Andy looked on North Tyneside Council's website to try and help with employability given that he has a role as an Enterprise Adviser with the HR Professional Body (CIPD) supporting the Tees Valley Combined Authority. However, he didn't hear back and when he chased them they suggested he consider Good Neighbour instead. Andy found it was easy to sign up and the process of getting an email/phone call outlining a job is very straightforward.
Andy started with the shopping scheme despite describing himself as "not a great shopper". At the beginning of lockdown there was lots queuing involved and things you weren't able to find, which drove him mad. There were also some local items that he couldn't get or he hadn't heard of before such as chicken butter pie. Andy found it interesting learning some of them and knowing where to go, and enjoyed having some regulars to shop for.
This led on to 'buddying'. Andy was very reluctant with buddying to begin with; he has a hearing impairment and wearing face masks means he is unable to lip read plus he found the combination of face mask and 'Geordie' difficult for him to understand. However, because Andy meets both of his buddies outdoors and at a safe distance face masks have not been necessary.
Andy started the garden gate scheme in August when he went to visit Melanie, who was unable to walk far due to a health condition and preferred if someone would come to her home. After his first visit, Andy had no idea whether he was making a tangible difference. The key moment for him was getting feedback that it was working and he's since learnt that just being there is helping.
Melanie and Andy have been lucky with the weather and have continued meeting in her garden despite it being autumn. There was one day when the weather was torrential and they both stood under cover in her garden. Andy has enjoyed going to see her and thinks, should the official visits come to an end, he'd be happy to exchange details and keep in touch.
Melanie commented: "The garden gate scheme is a wonderful service; I'm really enjoying it. I get dead excited about Andy coming. It's spurred me on to do things and not sit here panicking; it's given me purpose. Andy's a lovely gentleman and we've met three times so far. I prefer the continuity of the same person visiting rather than speaking to a different person each time with telephone befriending. My garden gate buddy and I are like chalk and cheese, but that's a good thing."
In addition, Andy has been visiting Derek every other week since September. Derek had previously fallen and broken a bone hence being weary about going out. They started with a short 20 minute walk the first week, which increased in the length the next time they met. By week three, Andy and Derek were not paying attention where they were going and got hopelessly lost near the Rising Sun Country Park. Andy now knows to stick to routes where they know how to get back.
Andy found getting out and meeting new people has done him good. The experience has also made him reflect on life. He is very happy volunteering and this has led to him recently becoming a trustee for VODA.
 "You get a positive feeling that money can't buy."
Andy's daughter is currently furloughed and he is trying to 'twist her arm' to give volunteering a go as he thinks she would enjoy it as well as helping her get out and giving her something to do. Andy had really enjoyed being a volunteer.