Many local residents have access to a smart phone, laptop or tablet, but are unable to use their devices for what they need. We believe that with increased support to access digital equipment, connectivity, and skills, our residents can live happier and healthier lives. 
With this in mind, the Help me be Digital Project hosts digital drop in sessions around the North Tyneside Borough. At the drop in sessions residents can come in with their digital device and ask for help on a range of topics, from creating an email address to using online prescription services.
Watch this space for more information as the project develops.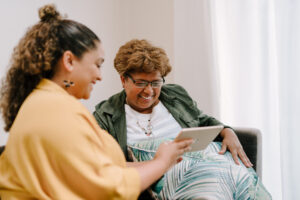 Could you be a Digital Volunteer?
We are recruiting volunteers to support people to become digitally connected. By becoming a Digital volunteer you can support people to learn the basics of their devices. You don't need to be a tech expert for this volunteering role, you will help people:
Create and use an email address

Online shopping for groceries
Using social media
Installing and using apps (such as WhatsApp and Zoom, Skype etc.)
Access online GP and prescription services
Downloading and using the NHS App
Staying safe online
Find local information, advice and guidance online (like the Living Well North Tyneside Website)
We want Digital Volunteer to:
Run digital drop in sessions (always with another volunteer/staff member, never alone)
Set up tables, digital devices, coffees and tea if needed
Initiate conversations with the local residents attending
Be confident using and explaining simple digital and technical skills
Be patient when supporting people and understand that digital terminology can be a barrier to engagement
Be trusted with secure information and data
Be aware of the social and support needs in the local community and the effects of digital inclusion
Have a laugh, make new connections and be a friendly face
Refer to VODA for signposting if someone needs support in other areas
Report back after the session to keep the team up to date 
Digital How To Guides
VODA's Digital Champion's project worked with with volunteers during the pandemic to deliver digital outreach support to with people who already had a tablet/smart phone/computer and an internet connection, to make the best use of their device. 
As part of this project, volunteers created a number of digital how-to guides to help people to navigate certain tasks online.
This project has now concluded (with digital outreach now provided by North Tyneside Council), but you can still view and download the how-to guides below.