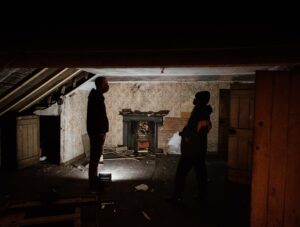 Members of North Tyneside's voluntary and community sector have been working with local artists to unearth and share fascinating stories of life on Howard Street in North Shields. The work has been delivered as part of the wider High Street Heritage Action Zone (HAZ) project which forms part of North Tyneside Council's ambitious master plan to transform North Shields town centre and riverside.
Staff and volunteers from the North Shields Heritology Project and Remembering the Past have collaborated with local musicians, photographers and drone operators to produce a series of short-films exploring everything from the importance of Howard Street to the abolition of slavery, to imagining the life of a servant, following the unexpected discovery of a ex-servants' quarters on Northumberland Square.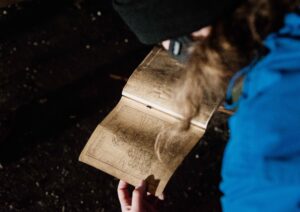 VODA has taken on the role as Lead Partner in the HAZ Cultural Consortium, supporting a programme of work that enables staff and volunteers to further develop their digital skills whilst working together on an inclusive and engaging project. We are particularly excited about the opportunity to share the project outputs with local schools as well as members of our community who have experienced long periods of self-isolation due to the pandemic.
"When the opportunity to work on The Heritage Action Zone Pilot Project arose, we jumped at the chance to get involved! It gave us the opportunity to make use of the great research our team had carried out on two stories connected to Black History in North Shields. It also gave us the opportunity to test out new skills in putting together documentary film pieces which we hope will open up these stories to a wider audience. We used Aerial Drone footage for the first time to capture The Heritage Action Zone from a completely different perspective, and North Shields looks great! We hope you find the films both informative and enjoyable, and that they shed some new light on an important aspect of our Town's history." Keith Spedding, North Shields Heritology Project
The North Shields Heritology Project has completed two great films celebrating Black History in the Heritage Action Zone of North Shields:
'Two Talks towards Freedom' – Frederick Douglass in North Shields
The boxer who fought for his people' – Charles Minto in North Shields
Remembering the Past has been collecting stories about the commercial importance of Howard Street. This has led to the creation of a short film, 'Mr Howard Street', exploring David Hodgson's 50+ year relationship with the street.
Connections
Local artist and musician Jayne Dent was worked alongside Eye of the Tyne Photography to produce an original audio/visual piece, Connections, inspired by a visit to an ex-servants' quarters located above RA Jackson, 18 Northumberland Street.
We have also captured some incredible drone footage of our Heritage Action Zone which is being used to create a virtual tour showcasing some of the rich heritage of the area.
We look forward to building on this pilot project, expanding our partnership to include additional local charities including Helix Arts and The Exchange.
For further information on this work please contact Keith Hardy: [email protected]