The North Tyneside Best Start project is led by VODA and supported by the 0 – 19 Children's' Public Health Service and Public Health.
When deciding whether to breastfeed or are considering stopping, mothers tend to talk over concerns with close friends or family. Unfortunately, due to a culture in the UK where few women breastfeed, social networks often lack positive breastfeeding experience.
The project aims to fill this gap by linking mothers who have parenting experience (peer supporters) to new mothers who may need support. Volunteer peer supporters for the Best Start Project will work closely with the 0 – 19 team and the infant feeding co-ordinator. They will volunteer in community venues supporting families with basic information sharing and support around:
Infant feeding
Safe sleep
Coping with crying
Normal Newborn behaviour
Emotional health
Transition to parenthood
Signposting to further support
The peer support will help to reduce parental isolation and give new parents an opportunity to meet other parents in their own community.
Watch this space for more information as the project develops.
Be a peer supporter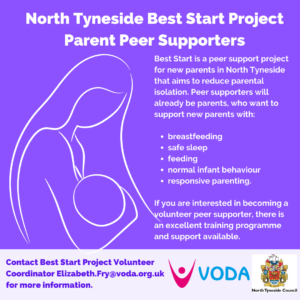 We are recruiting Peer Supporters who are:
Mothers with breastfeeding experience and a positive attitude towards breastfeeding OR have experience or knowledge supporting families with young babies or children.
Willing to complete 12 modules of e learning on google classroom
Willing to have a DBS check done, in line with all staff and volunteers who work with, or have access to children and babies.
Willing to complete safeguarding training.
Willing to attend regular peer support networking/up-date sessions.
Willing to commit to ongoing progression training.
If you are interested and wish to find out more, please contact elizabeth.fry@voda.org.uk or you can SIGN UP HERE.