What is the Help Me Be Digital project?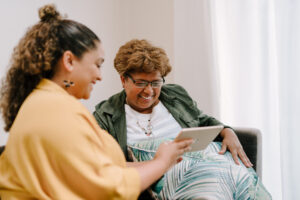 Help Me Be Digital is a project supported by North Tyneside VODA and NHS North East North Cumbria ICB. The project offers basic one-to-one digital support to residents in North Tyneside to help them feel more digitally included.
Help Me Be Digital also runs drop-in sessions at venues like GP surgeries, shopping centres, local festivals and events. 
Help Me Be Digital aims to give digitally excluded residents in North Tyneside some basic digital skills and offer them basic advice and support using their smart devices 
What kind of support does the project offer?
The Help Me Be Digital project aims to help people: 
Get online 

Book a GP appointment via the NHS App 

Use FaceTime/Skype/Zoom 

Set up a social media account 

Do an online food shop

Pay a bill online 

Stay safe online 

Set up an email account 

Download apps on their smartphone 

Find local information, advice and guidance online

 
What is digital exclusion?
In the UK there are 10 million people who lack the basic skills needed in an increasingly digital world, and 1 in 20 UK households have no home internet access. In the North East alone it is estimated that 28% of people are limited internet users (digitally excluded). With more services than ever operating on an online only basis, we know it's more vital than ever to support digitally excluded residents living in North Tyneside to become more comfortable online. We believe that with increased support to access digital equipment and skills, residents can live happier and healthier lives.  
I would like to volunteer
Great! You can read our in-depth volunteer role description here and submit a referral form here.
I would like to refer someone
Please fill in our beneficiary referral form here.  
More information