What is DiscoverMe?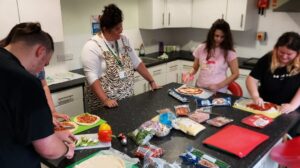 DiscoverMe is the recovery college for young people aged 16 to 25 in North Tyneside, working in partnership with Barnardo's The Base. It offers a safe and supportive space for young people to come and learn new skills, engage in positive experiences, and make new friends! DiscoverMe's overall aim is to empower young people to better understand themselves and their own health.
Get involved
As a participant…
DiscoverMe is free to all 16–25-year-olds living across North Tyneside. You can commit to whatever feels comfortable to you, without any obligation.
There are no criteria to join, you just have to be living in North Tyneside and aged 16-25.
We will offer a variety of activities and workshops such as arts and crafts, music, gaming, sports and more. All of our sessions will be co-designed and co-produced which means your ideas matter. Take a look at our What's On page to find out more.
As a volunteer…
We want young people to feel empowered to lead a happy, more fulfilling life. There will be lots of opportunities to get involved with DiscoverMe – head over to our volunteer section to find out more…
Interested in finding out more? Express your interest below and a member of the team will be in touch.
Interested in finding out more?
If you know of anyone aged 16 to 25 who would like to get involved, please contact:
Sarah Bell: 0759 889 3116 
Liz Fry: 0775 939 3741
Office: 0191 643 2626
Email: [email protected]
Or you can express your interest here and a member of the team will get back to you.
DiscoverME has been created with thanks to funding from the NHS North East and North Cumbria (formerly North Tyneside CCG).
Find out more about DiscoverMe