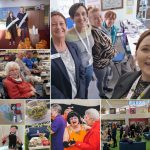 Loneliness is an issue that is growing in awareness in our society. The Government recently launched a new website – Let's Talk Loneliness – to bring together organisations, resources and inspirational stories to get more people talking about loneliness. One of their first case studies featured Minn Marshall, a beneficiary of North Tyneside VODA's Good Neighbours project, which looks to team up volunteers to provide support to isolated residents in North Tyneside with small tasks and errands typically associated with a good neighbour.  
Minn, an 89 year old resident of North Tyneside, was put in touch with the project by her warden when she started struggling with her shopping. Minn now attends Good Neighbour's weekly shopping trip, supported by one of our volunteers. Minn said: "I really look forward to Tuesdays now and don't know where I'd be without the Good Neighbours." 
VODA has managed the Good Neighbours project in North Tyneside for a number of years, including a weekly supported shopping trip to Tesco in North Shields and volunteers who use their skills to help out beneficiaries with odd jobs that they can no longer manage themselves. We recently secured funding to expand this project to the west of the borough and have appointed a new project coordinator to recruit new volunteers and beneficiaries to support this growth. Part of this expansion is a new weekly shopping trip to Morrisons Killingworth every Thursday at 1pm. If you would like to find out more, or to get involved, please contact [email protected]. 
This winter, as part of the North Tyneside Winter Support Network, VODA facilitated the distribution of keep warm packs and emergency food packs to residents who need extra support during the winter months. The keep warm packs included a fleece blanket, hot water bottle, thermometer, thermo mug, thermal socks, hats, gloves and snood. Alongside this, volunteers have made almost 200 draught excluders so far, which have been distributed to the Bay Foodbank and Walking With in North Tyneside.   


In 2019, VODA secured funding for a new partnership – Ending Loneliness in North Tyneside – to bring together like minded organisations to work in collaboration to tackle social isolation and loneliness in the borough.  Over the next four years VODA, Age UK, Citizens Advice and North Tyneside Carer's Centre will be increasing our capacity to deliver services that improve people's wellbeing and increase their connections within the community. Whether it's volunteering, attending groups or engaging in social activity, each organisation in the partnership can provide a wide range of activities for all ages to reduce feelings of loneliness.  The partnership launched in Killingworth on Thursday 6 February as part of 'Time to Talk Day' 2020. 
VODA's Ending Loneliness Project coordinator has also been working to identify new ways of working when tackling social isolation and loneliness. North Tyneside has a wealth of activity and community groups available to residents, but information can prove difficult to find. That's why the partnership keen to increase awareness and public engagement with the SIGN Directory.  
The SIGN Directory is an online directory of over 200 providers of community services and events for the residents of North Tyneside. Based on the information available on the SIGN, Directory, VODA has produced the first in a series of ward-focused information booklets which list activities based on health, socialising, volunteering, learning and mental wellbeing. 'Things to do in Wallsend and Howden' is available via GP surgeries, community venues, local libraries and the VODA website, with leaflets for other wards currently in development.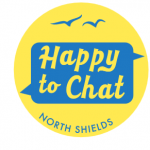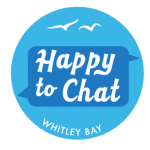 Happy to Chat is another initiative that launched this winter. VODA is working in collaboration with members of the SIGN Network and Whitley Bay Big Local to develop Happy to Chat schemes across North Tyneside to help reduce loneliness and social isolation. The aim is to recruit volunteers who are willing to Chat Happily with other residents who would like company or conversation. The aim is to encourage people to show kindness to one another, take time to listen to others and make connections in the local community. 
Volunteers will wear Happy to Chat badges so that people know they can approach them to chat. The scheme will then hopefully be extended to include cafes that are willing to host a Happy to Chat table on a regular basis, with volunteers available to sit and chat with people who would like to chat. Launch events were held at the end of January at the Beacon Centre in North Shields and Whitley Bay Big Local, with fortnightly events (Tuesdays 10am to 12pm) held at the Beacon Centre and regular events at Whitley Bay Big Local. 
To find out more email [email protected] or call 0191 643 2626.  
You can search for activities and events on the SIGN Directory here