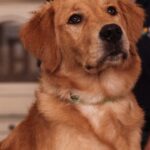 Ever wondered how a Therapy Animal might support your work?
Northern Animal Assisted Therapies & Activities (NAATA) is pleased to introduce their team, which includes Heidi, the Therapy Dog and NAATA's own flock of Therapy Hens. They're eager to meet and greet North Tyneside residents and support the vital work of our third sector during COVID-19 recovery and beyond.
NAATA supports young children's development with an emphasis upon fostering wellbeing and communication skills. It is led by a specialist Speech and Language Therapist Lesley Forrester. She specialises in working with young children with communication difficulties, and the adults who support them. Lesley founded NAATA CIC and carefully selected and reared the animals in preparation for their role. The qualities they bring to supporting children's wellbeing and development, can lend themselves to supporting outcomes across a wide range of professions and settings.
As a Speech Furrapy Assistant, Heidi the Golden Retriever brings a great lightness and comfort to service users with communication difficulties. For people with social communication needs and Autism she delights in being a friendly and supportive play partner. Like other Therapy dogs, Heidi presence can ease social situations and promote trust and interaction between people. As Speech Featherpy Assistants, the NAATA hens are a source of fascination, fun and motivation for communication.
NAATA exists to promote wellbeing and communication skills in our community, whether that's through direct work with clients and organisations or through partnership working with other services and practitioners. If you are curious about Animal Assisted Interventions, NAATA would love to hear from you. Perhaps you are already aware of the huge range of benefits that interactions with animals can bring. Perhaps you're working to support people in the community who have a love for animals and would enjoy their company.  NAATA invites partners to find out more about how we can work together to enable progress in a way that is memorable and joyful for all.
Lesley Forrester, NAATA Company Director commented: "While COVID-19 has had a devastating impact upon our communities it has also challenged services to work together more creatively to meet people's needs. I'm really excited about the potential for animal assisted intervention to enhance services, increasing effectiveness in a way that feels good."
Contact [email protected] or visit www.naata.co.uk.
(NAATA is fully insured and licensed with enhanced DBS certification)