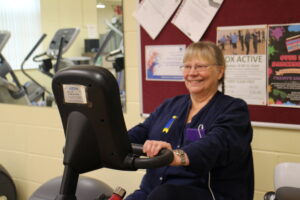 March 2023
Healthy body, healthy mind: charity using exercise to manage mental health conditions.
A mental health charity in North Tyneside is encouraging residents to look after their mental health through exercise.
Tyneside and Northumberland Mind's 12-week programme supports people to improve their physical and mental health and to manage their conditions through gym sessions.
The charity provides members with individual assessments and workout plans which can include co-ordinated sessions with a personal trainer at a local gym where they'll become members.
By supporting customers with their confidence in the gym, it looks to create a long-term change in people's lives by providing a place where they can go to focus on their wellness.
Lesley Booth, a North Tyneside resident, has been taking part in the programme and now enjoys her visits to the local gym. She said: "I think the programme is a great idea, it's for people who, like me, may have dealt with issues and want support.
"It's good to have the encouragement and support to get out and do something and be alongside like-minded people. We get lots of other support too."
Alongside the gym membership and classes, those on the course are offered access to specialist seminars where they're helped with subjects to aid mental wellness including nutrition and sleep.
Once the three-month personal training is over, customers can continue on at the gym for a further six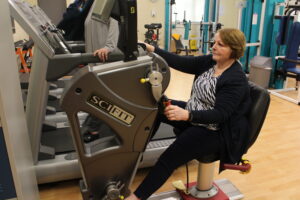 months to help it become a routine. At the end of the six months, there's opportunities to continue to exercise.
Andrew Thorp, Wellbeing Coach, for Tyneside and Northumberland Mind, is coordinating the programme; "Since we started the programme, we've had 5 groups of members take part and they've all overcome personal barriers.
"I've seen how much members enjoy the gym sessions. They've told me how it's made a positive impact to their lives, in how their physical health and crucially how they feel emotionally."
Tyneside and Northumberland Mind has the opportunity to support four people through their level two gym qualifications, they promote access to local wellness groups and they can support people by further renewing their gym membership.
The programme was made possible thanks to almost £30,000 funding from the Health Inequalities Fund which is hosted by VODA and funded by North Tyneside Council and the NHS North East and North Cumbria Integrated Care Board.
Since receiving the funding in June 2022 the charity has supported a variety of residents, on the recent course was Kathleen Watson. She said "I was already getting weighed weekly through the Cedarwood trust and this was just another great opportunity to do a bit of exercise and keep fit. I'm loving it."
Rosalind has also been taking part and she's full of praise for the programme: "It's been brilliant, I've been on a bit of a health kick and exercise was the last bit of the puzzle to change my lifestyle. It's been really good."
Cllr Karen Clark, Cabinet Member for Health and Wellbeing at North Tyneside Council, said: "It's well known that exercising can be really beneficial for our mental health and it's fantastic to be able to support a vital charity like Tyneside Mind to support residents to get into the gym and see the positive results it can have.
"Sometimes just getting to the gym can be really nerve racking, so to be able to fund and support people to become comfortable in the setting and to help them on their journey is brilliant. The feedback from those on the programme shows just how great it is.
"The health inequalities fund is all about reaching people in our communities and helping them to improve their health and this project is doing just that."
Dr Alexandra Kent, Medical Director for the NENC ICB (North East and North Cumbria Integrated Care Board) and a North Tyneside GP.
"Mental health is just as important as physical health. This scheme will give local people in North Tyneside the support needed to improve their health and wellbeing. People will have more accessible, affordable, and quieter spaces for exercise as well as a range of resources to help support and motivate them. "
The Health Inequalities Fund, developed by the members of the Better Together group, awarded grants of between £10,000 and £30,000 to fourteen Voluntary, Community and Social Enterprise (VCSE) sector organisations in Summer 2022.
All funded activities focus on delivering outcomes relating to the key themes of the recently published Equally Well strategy for North Tyneside – 'Equal life chances for all', 'Thriving places and communities' and 'Maintaining independence'.
ENDS
Laura Bolden, North Tyneside Council