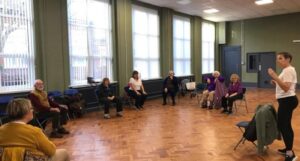 Age UK North Tyneside is supporting older residents to get into fitness and community activities after launching a new range of weekly classes.
With sessions covering everything from Pilates and balance exercises to reading and social groups, there's something on offer for residents of all abilities.
New classes are constantly being added to the schedule, with current plans for lunch clubs, dinner clubs and a refreshed book club, along with virtual sessions for people who want to join in from home.
While the sessions are fun and beneficial, they're helping to address health inequalities for older residents in the borough.
They're designed to reach older residents, particularly those who may be experiencing poor health, and support them to feel healthier and happier.
The sessions have been launched thanks to almost £30,000 grant funding from the Health Inequalities Fund which is hosted by VODA and funded by North Tyneside Council and the NHS North East and North Cumbria Integrated Care Board.
Thanks to the funding, Age UK North Tyneside is able to offer the first session for free, with an additional free session when you bring along a friend, and test a wide range of activities to see which prove popular with older residents.
Sessions range from £3.50 to £5 per session after the free trial, with the cost used to help continue and extend the sessions after the scheme ends.
One class that's proved popular with residents is the seated Pilates session, where residents take part in an hour-long class to strengthen their muscles and help improve their overall fitness in a sustainable, yet fun way. Mainly led by enthusiastic coach Laura, the class runs every Monday afternoon.
Barbara, Sylvia and Edward have all recently started the classes and are already seeing the benefits.
Sylvia is a few weeks into the classes and has found them beneficial so far, she said: "If I go to a normal exercise class it ends up hurting my knees and then I don't go back, but coming here to do a seated class means it doesn't hurt so I can keep exercising rather than not doing it. When I was younger and fitter, I did Pilates and loved it, so it's good to be back and it's mainly on the core and we need our core so it's great."
Edward was referred to the class from his doctor and has continued to attend classes. He said: "I was referred to the classes by my doctor for my balance as I was walking around like a drunken sailor half the time. I've attended balance classes and then I asked if there was anything else I can do to keep up doing exercises, so I've come to seated Pilates and other classes a few times a week. I've seen a big difference, actually a massive difference and if it wasn't for my balance I wouldn't have come along. I'm learning loads, I can stay healthy for longer and I think that's great."
Barbara joins the fitness class but takes part in the other sessions like arts too. She speaks highly of the social element of the classes: "There's a social aspect to these lessons too, it's seeing people, making friends, sharing experiences and hobbies with others. It would be great to see more people of our generation getting into these classes as it's been fantastic for me."
Amber Brady, Health & Wellness Lead Coordinator for Age UK North Tyneside, said, "We're absolutely delighted to have received this funding. It's helped us reach even more customers and allowed us to make a real difference to the lives of older people in North Tyneside. Our classes are a fantastic way for people to stay active and build lasting friendships, improving both their physical and mental wellbeing and helping us to end loneliness across the borough."
Cllr Karen Clark, Cabinet Member for Health and Wellbeing at North Tyneside Council, said: "Exercise has lots of benefits for everyone, but we know that for older residents it can be harder to exercise as classes are more difficult to access. It's great to see a local charity supporting these residents to engage in exercise and offer a format that is effective yet sustainable for those taking part. I'm delighted that through the Health Inequalities Fund we're able to support organisations to establish offers like these that have a real benefit for our residents."
The Health Inequalities Fund, developed by the members of the Better Together group and managed by North Tyneside VODA, awarded grants of between £10,000 and £30,000 to 14 Voluntary, Community and Social Enterprise (VCSE) sector organisations in Summer 2022.
All funded activities focus on delivering outcomes relating to the key themes of the recently published Equally Well strategy for North Tyneside – 'Equal life chances for all', 'Thriving places and communities' and 'Maintaining independence'.
To find out more about Age UK North Tyneside's Health & Wellness groups, call the Health & Wellness team on 07974 185 070 or email [email protected].