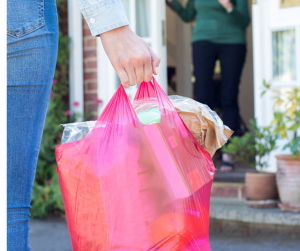 Maureen and her husband Harry are both in their 70s and live in sheltered accommodation in West Allotment. Due to various health concerns, Maureen has been shielding at home since January, with Harry taking care of the shopping and other necessities. However, as the COVID-19 situation worsened, Harry became more and more anxious about catching it while out on his shopping trips and giving it to Maureen, who is on the NHS vulnerable list. Harry commented: "Every time I left the house I was worried that I would bring the virus back with me and make Maureen ill."
The couple were referred to the COVID-19 Good Neighbours project where they were matched with volunteer Fearne.  "Josie from VODA was amazing, so friendly and helpful, nothing was a problem and she got us sorted out quickly," said Maureen.
To minimise exposure, they were able to pay via the North Tyneside Council payment scheme, which allows people to pay up to £70 over the phone, which is then given to the volunteers by VODA so that they can get the shopping needed. Fearne lets Harry know when she has arrived so that he can go to the side gate of their complex so she can put the shopping in, then he can wheel it back home in one go.
Harry also added: "I can't thank VODA and the Good Neighbours enough, the relief knowing that I am not going out there and putting Maureen at risk is immeasurable. We've had three lots of shopping from them now and it has been fantastic. Nothing is a problem for Fearne, she is a lovely young lady and a credit to her generation."
Maureen concluded: "It has done me the world of good knowing that people are willing to do things like this for us and that we can still get food even though we are shielding. Thank you to everyone involved. "