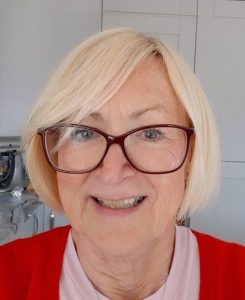 Pat from Whitley Bay was in Spain with her husband and dog when the Coronavirus lockdown started to happen and they quickly made their way home. As soon as she returned, Pat started thinking of what she could do to help people in her local community most affected by the crisis.
Pat commented: "I was really keen to do something useful, like most of us, and researched volunteer groups on the internet. I immediately found VODA and the NHS volunteer responders' scheme and applied for both.  Once the application process started with VODA, like all the other applicants, I became eager to do my first job."
Since signing up, Pat has undertaken a number of roles for VODA's COVID-19 Good Neighbours, including delivering shopping for a number of residents as well as an emergency prescription pick up. She has also become a regular shopper for one lady who is nearly 90. Pat is keen to keep this relationship going as the older lady has very little contact with anyone else and has begun to rely on the weekly contact with Pat for her food delivery but also for the weekly telephone call Pat makes to her, checking her food order to make sure she's ordered enough food for herself for the week.
Reflecting on her experience of signing up as a volunteer with Good Neighbours Pat said: "Every member of staff from VODA has taken the actions the volunteers are doing so personally, it's like we are doing this for them! In every email and conversation you all make me feel that you are personally grateful for everything I do – I feel so valued and appreciated – as if I am unique and special and doing a brilliant job.  I never expected to feel this from the staff as a volunteer. It's been brilliant."
As Pat had more time on her hands than was called upon by the volunteer groups, she decided to help the food banks that she'd heard were desperately in need of donations. Pat asked all her neighbours in the surrounding area of her home if they would like to get involved too, and they did, in a very generous way. She set up a donation bin on her drive and wrote to all her neighbours asking for donations of food to be placed in the bin and offered to collect any donations on Thursday evenings after the Clap for Carers at 8 pm for all those neighbours who couldn't leave their homes. The neighbours left their donations on their driveways for Pat and husband Tony to collect.  For the last 3 weeks Pat and Tony have delivered car boot's worth of food to the Bay Foodbank.  This is something they are planning to continue and now have another local street involved. As well as being able to support the food bank, Pat says her neighbours are grateful to be able to contribute to helping others during the pandemic, and it helps with their own wellbeing at the same time.