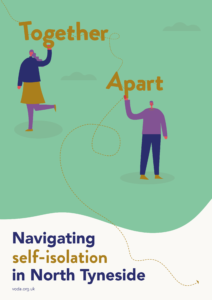 If you are asked to self-isolate, it is important that you follow the advice which is there to help keep you, your loved ones, and your community safe.
We know that, for many people, self-isolation is not easy. Not being able to go to school or work and missing out on seeing friends and family can be really challenging for our physical and mental health.
It can be hard work understanding and abiding by every rule, especially when things seem to change so often. However, it is now a legal requirement and you can be fined if you do not self-isolate when you are asked to.
We hope that this guide, Navigating self-isolation in North Tyneside, which has been created by VODA – in collaboration with North Tyneside Council – provides you with some useful information to help you stay safe whilst self-isolating. We want to thank you for everything you are doing to help reduce the spread of Coronavirus in your community.
Printed copies of this magazine will be available at the new Riverside community testing hub. Feel free to share and download the online version with anyone you feel would benefit.  We will beat this together.