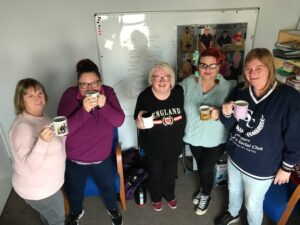 Welcome back And Hello 2023
Well what a start to 2023 we've had
We're exhausted just listing the bullet points of what we have achieved so far this year! Especially in light of 2 of the 3 staff members, having had a bout of Covid, in the middle of this.
The thanks for all we have achieved is shared across the great staff team (Ali, Alice, Julie) our outstanding volunteers ( Mick, Jess, Phil, Vicky, Lisa-Marie, Lorraine, Christine, Erin(PCET Placement), Hannah & Zara (Occupational Therapy Placements) Charlotte (Peer Support Worker) and Mandy (PSW) and of course our amazing participants all 68 of them, so far.
Supported of course by everyone who has recommended us and introduced new participants to us.
Here's a quick break down of what we have accomplished from Monday 9th January to Friday 3rd February, just 4 short weeks
40 New Expressions of Interest submitted
21 New students enrolled
13 of those are attending courses (there used to be a 6 week delay for most people. Due to changes in our enrolment process, as you can see we have reduced this for the majority of people)
19 have been offered appointments we're waiting for them to confirm availability
68 Unique Attendees weekly
285 attendances so far (the discrepancy is due to multiple course attendance for some of these people)
This equates to 459 hours of engagement in just 15 days of deliveries
16 courses are offered each week
And we had 3 brand new taster courses: Therapeutic Drumming from Ali Avery, Tai Chi from Vanessa Collings, and Grow And Eat from our colleague Vicky Bastoudi
Outside of these deliveries we also managed to deliver the following:
A 2 hour Sector Connector session for VCSE managers – How to Get The Most Out of Your Team
A Self-Care program with NT Carers Centre
Arranged and delivered food parcels from The Bay Food Bank and Tesco to a couple of our participants
Attended the final presentations of our OT Students: which completed their assignments for the 12 week placement with us.
On-boarded our placement PCET Student to begin 100hours of practical delivery to achieve their Teacher Training Certificate
Attended Launchpad's Patient & Survivor Forum at Linskill, was great to see a third of the attendees were previous students of ours. We'll continue to signpost people to this great group.
Ali and Julie are now entering the Strictly Come Dancing finals after covering 2 dance sessions in the absence of our dance instructor
What have our fab students been getting up to?
Well let's see what these courageous peeps have been doing
Phil Scott is now attending the Mad Studies course at Northumbria Uni each week and another has requested to do so
Mel performed her Winter Poem at the Norham show, a huge achievement as when Mel first started with us she very rarely spoke, now we can't shut her up
1 participant has gone and got themselves a job just when we were eyeing them up to volunteer, the cheek of it lol, seriously we are dead proud
2 participant have returned to work after long term sick, diluting the volunteer pool even further
1 participant we'd earmarked as a volunteer has attended an interview to be a Peer Support Worker, if only we had more funding they could have done that for us
1 volunteer has put their name down to attend Recoco for a Peer Support Info session, this is looking like we need more volunteers and pretty sharpish
1 participant is now on a Performing Arts course at Northumbria Uni – do I hear the sound of a future volunteer
At least 8 people have put their names forward for the Working Well Together, Community Mental Health Transformation Sessions, in collaboration with Mel Bramley from Health Watch, following sessions done in October and December of last year.
Special Thoughts and thanks must go to our wonderful volunteer art facilitator Mick who is currently absent due to sickness. It was great to see the out pouring of kindness love and support from the art students who all contributed cards, words of kindness and art work to show Mick how much his years of contribution have been appreciated. We look forward to his return.
It is with much sadness that we wave goodbye, farewell, adios amigos to our amazing OT students. In 12 short weeks they came in hit the ground running were open to our unique ways of working and found ways to inject the OT spirit into what we do. We came very close to attaching shackles but thought this may contravene employment law so it is with sadness and pride we allowed them to escape our clutches, but not without a farewell meal with staff. A massive thank you to both Hannah and Zara and wishes for your success in the future
Can I point out that Alice managed to get a little more than the rest of us, as Hannah so kindly puppy sat Freddy this weekend. Demonstrating the true connections we make, OT's are not just for Christmas!
To find out more about their experience with us you can see the OT reflections here.