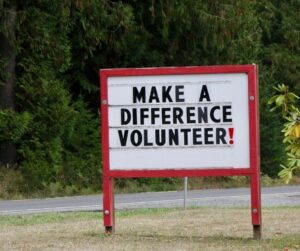 A number of North Tyneside organisations are currently recruiting for volunteers and trustees. You can search for all available volunteering opportunities on our online database, or take a look at our round-up below.
Opportunities available with VODA
Vaccination support: Volunteer steward roles are available supporting COVID-19 vaccination centres in North Tyneside. Tasks will include greeting people, car parking support (at some sites), requesting people use hand sanitiser / wear face coverings on arrival and coordinating flow of people.
Vaccination Outreach Volunteers: This new role with our Community Health Champions (aka Pigeons) is aimed at getting more members of the public to have their first vaccination by attending the walk-in clinic which will be in close proximity.
Good Neighbours
Good Neighbours DIY Volunteer to help local residents with tasks in and around the house (in line with the current government guidelines). These tasks range from changing a light bulb to putting up a bird box, all in all simple jobs and repairs.
Good Neighbours buddy scheme, to help support local residents who need support to get back out into the community. We're recruiting for Community Buddies.
We also need Shopping and Prescription Collection volunteers to help support residents who may be isolating.
Community Health Champions to help share verified health messages across North Tyneside.
Opportunities with other North Tyneside VCS groups and organisations
The 18th Wallsend Scouts are looking for new leaders and volunteers for their Scout Group. They hope to return to Wednesday sessions (15:15 – 17:00) at Redesdale Primary School, but cannot do this without help from more adult volunteers and leaders. They have three age group sections, from age 6-14 years. Leaders would have to be DBS Cleared, and be willing to undergo training. Please contact the Group Scout leader if you are interested: rebecca.moyes@18thwallsendscouts.org.uk or 07432098154
Useful Vision is recruiting Activity Volunteers to support the delivery of their summer activities.
Family Gateway needs drivers to support with food deliveries to the families they support. They would also like to add more volunteers to the whole team. They'd love to hear from enthusiastic people who would be happy to assist with general volunteering tasks such as supporting activities, gardening and maintenance, cleaning and sanitisation, packing and delivering free meals and care packages.
Friend Action North East is looking for a Digital Volunteer to support all aspects of IT from data input, updating Friends Action North East's website, posting on FANE's social media platforms to campaigning for digital inclusion for people with learning disabilities and/or autism. This role can be tailored to people's time, commitment, and expertise. Volunteers will work from home in this role.
British Heart Foundation South Tyneside 
XL Health offers health, safety & care related training, medical and welfare services for events and organisations, as well as a range of Covid19 testing and support services. They are recruiting for a number of volunteer roles.
Age UK North Tyneside is recruiting for:
Pearey House Centre For Visually Impaired needs a volunteer assistant, Tuesdays 8.30am to 12.30pm, to help with activities and lunches for blind and visually impaired adults.
Meadow Well Connected is looking for and ICT volunteer and a Reception volunteer#
St Oswald's is recruiting for a number of volunteer roles:
The North Tyneside Parks Team is looking for Green Spaces Improvement volunteers for monthly volunteering sessions at Northumberland Park starting 2 June.
Citizen's Advice North Tyneside has a number of Telephone Adviceline Volunteer vacancies.
Survivors of Bereavement by Suicide is recruiting a Peer Support Facilitator
YMCA North Tyneside is recruiting Volunteer Mentors to support young girls aged 9 to 14. Read more and apply here.
FACT Cancer Support
needs telephone befriending volunteers for 2 or more hours per week. Working from home or one of their community locations. Contact
Shirley.sheen@fact-cancersupport.co.uk
or call 01914420833.
Beach Access North East is recruiting a mechanic or engineering volunteer who can help them to design, create, develop or modify equipment so the beach is more accessible for wheelchair users. They also need volunteers to support the loan of access equipment by appointment. Based at Whitley Bay or Blyth and a Marketing & PR volunteer.
LD:NorthEast has a vacancy for an Activities Volunteer.
North Tyneside Citizens Advice is recruiting a number of Telephone Adviceline Volunteers
The Thomas Pocklington Trust is looking for appoint Sight Loss Council Members for Tyne & Wear. They are looking for people who can draw from personal experience as a person who is blind or partially sighted, contributing skills and knowledge to benefit the key aims of the Sight Loss Council.
Cruse Bereavement Care is recruiting a Fundraising and Marketing Volunteer
Trustee Vacancies in North Tyneside
Keep up to date with volunteer news by following the North Tyneside Volunteer Centre on Facebook.