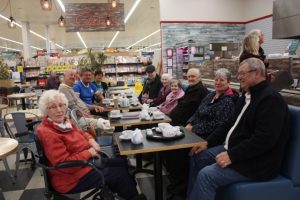 We're delighted that our Good Neighbours shopping trip has been featured on a new blog from the Department of Culture, Media and Sport. Let's Talk Loneliness is the start of a year long campaign to tackle the stigma around loneliness. This campaign will show that feeling lonely is simply part of being human, much like being hungry, and encourage people to act through easy-to-understand messages and information.
The blog features a case study about Min, one of our lovely regular Good Neighbours shoppers. Min, who is 89 this year and lives in sheltered accommodation in North Shields, has been coming to the shopping trip for several months now, ever since the warden at her accommodation noticed how much trouble she was having with her shopping.
"I think it's amazing that the volunteers give up their time to help people like me. David, who I was first matched with, was such a great support, he not only helped with my shopping but he'd make sure everything was put away for me at home and even did some odd jobs in the house that I couldn't manage."
The Let's Talk Loneliness campaign features a range of resources, toolkits, suggested media posts and ways to get involved.