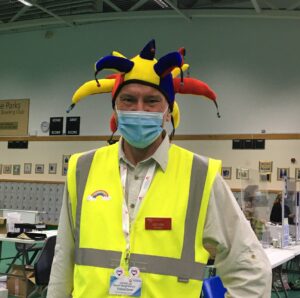 Volunteer Kevin Dickinson has become a bit of a celebrity at North Tyneside's GP-led vaccination clinics with his collection of silly hats. From what started out of necessity on a cold December's day needing to keep warm, Kevin soon realised that his hats were a useful distraction to people who may be feeling anxious and brought a bit of cheer to their experience.
Kevin spoke to us about his experiences as a volunteer.
Why did you sign up to volunteer?
I was made redundant from the NHS in 2018 and decided to take early retirement. As my retirement hadn't been planned I hadn't worked out what I was going to do once I wasn't working. By coincidence Newcastle was Hosting The Great Exhibition of the North that summer and I found myself volunteering at venues throughout Newcastle and Gateshead helping visitors get the most pit of exhibits and learning a thing or two myself about the town I lived in. I met some great volunteers that year who recommended other organisations to volunteer for and I've thoroughly enjoyed myself volunteering for a diverse range of organisations covering sporting events, the arts, science and health.
COVID put a stop to most volunteering though I still managed to do some things virtually.
I feel that the pandemic is probably the biggest threat to mankind that I will experience in my lifetime and when I heard volunteers were needed at vaccination centres I jumped at the chance to help and play my part in fighting it.
I'm proud to have been there when the first person was vaccinated at a GP vaccination centre in North Tyneside and to have played a small part in the great success of the vaccination programme.
What do you do when you were volunteering?
At the vaccination centres I am a volunteer steward ensuring visitors know where to go at each stage of the vaccination process.
I'm also keeping a look out for any visitors who may need additional help or who are anxious about the vaccination. Whilst it may look like we are simply directing traffic and having the odd conversation here and there we are trying to out people at ease by ensuring they are confident about the process and distracted from worrying.
We also ensure that any visitors who have queries can speak to the most appropriate person who can give them an answer.
Is there anything that really stands about your volunteering experience?
I started volunteering in mid December on some very cold days. I had a skiing hat that I usually wore when walking as it's great for keeping my ears warm so thought I would wear it when working outside vaccination clinics. It hadn't occurred to me that it had another purpose! So many visitors commented on the hat and one gentleman approached me to say he had been nervous about having the vaccine but had lost all the nerves when he arrived at the centre and saw my "silly hat".
I realised I could brighten people's days and maybe help them worry less by wearing the hat and soon learnt that it also worked to make the vaccination centre less daunting for visitors with learning disabilities or special needs.
Of course the weather improved and I also worked inside so I decided I needed a range of hats to cover each situation so gradually built up a collection of "rainbow hats".
I'm still keeping an eye out for any visitors who may need help or additional support but I'm also singing and dancing in my hats to keep the atmosphere light-hearted and help out people at ease when they visit a vaccination centre and this seems to be appreciated by visitors.
The number of positive comments we have received from visitors is overwhelming and humbling to know that people really appreciate the volunteers.
What would you say to anyone wanting to volunteer?
Do it!
It's a very rewarding experience, especially if you have direct contact with the public.
The great thing about volunteering is that you can do as much or as little as you want and there's such a diverse range of volunteering oportunities there's bound to be something there for you.
Anything else you would like to add?
We all get into bubbles (not the COVID kind) where we tend to meet and socialise with people similar to ourselves. Volunteering is a great way to meet a diverse range of people both in fellow volunteers and the public you will come into contact with. It's also a great way to improve your own mental health as there are a fantastic range of experiences to participate in. Whether you do a little or a lot every hour of volunteering helps.
"Every individual matters. Every individual has a role to play. Every individual makes a difference. What you do makes a difference, and you have to decide what kind of difference you want to make." Jane Goodall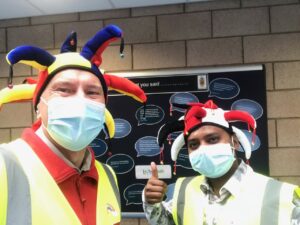 Photo of Kevin with fellow volunteer MD Hamid, who has also joined in with Kevin's hat craze!