When the Lovaine Community Garden needed help with a broken water supply, they contacted VODA's Sector Connector to see if any local businesses could come to their aid. Thankfully, Rothwell Plumbing Services (North East) were able to step in and fix their water supply. Not only that, Rothwell also improved the hoses/connections, lagged the pipes to prevent further frost damage, and provided a new sink to wash pots.
We spoke to Lovaine Community Garden and Rothwell Plumbing Services to find out more about their experience with Sector Connector and how it worked for them.
Sarah Rothwell – Rothwell Plumbing Services
"The Rothwell Group decided to get involved with Sector Connector to support the communities we work in – as a local business, we feel it's important to support community projects and local VCE's.
"We really enjoyed helping the Lovaine Community Garden out- it was a nice change to help and carry out some works different from the day-to-day work we do through our contracts for our clients. We would definitely consider providing this type of help to community groups in the future, in fact, it's something RPS would love to be involved with.
"RPS are committed to creating social value where we can and giving back to the communities we operate in. By supporting and offering help in our area of expertise – we can all do our bit to make a difference. By offering help where and when we can, little changes and shows of support can hopefully help to make a big difference to the communities and people close to us."
Wendy Young – Lovaine Community Garden
"We found out about Sector Connector from Keith Hardy when we attended a workshop at VODA's Wallsend hub. Keith put me in touch with Ian Dodds, who runs the Sector Connector project when I mentioned we may need a plumber as the winter frosts had broken our water supply and we were having to rely on water butts, or carrying water from the house, for the livestock in the garden.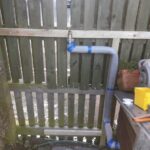 "The process was amazingly easy and super quick, within a couple of days, we had the plumbers from Rothwell's in the garden, and the water supply back on. Not only that, but they also came back a couple of days later and improved the existing pipework and connections, lagged the pipework and installed an amazing freestanding sink and tap so that we can wash pots, tools etc much more easily than before (as it was just a hose, so you would get soaked!). We had previously been quoted around £800 for a sink, which was way out of our budget, and we had tried to get a grant for it but were unsuccessful. But when I mentioned it to Peter from Rothwells, he sorted us out with a brand-new sink within a few days and had their plumber Gareth install it. They both were lovely friendly guys too and Gareth's workmanship was immaculate.
"The support from Rothwells was amazing. Having the water supply fixed has made a tremendous difference to the garden. We had emptied all 3 of our backup water butts to provide water to the ducks and chickens over winter, after our supply broke in December and were having to carry water over from the houses of the local volunteers, which, while not far, was quite a big challenge, and there was no way we could have carried enough water for the plants in spring/summer had the supply not been fixed!
"We think Sector Connector is a brilliant project and are extremely grateful to VODA and Rothwell's for helping us out with this, couldn't encourage people more to get involved, there are literally no negatives.
"This was the first time we had used Sector Connector, but since then, Sector Connector has been organising volunteers from local businesses for us for other upcoming projects in the garden and is on the lookout for joiners to support us with some projects in the garden. Thank you all again!"
If you would like to find out more about Sector Connector, visit our website www.voda.org.uk/sectorconnector or email [email protected]