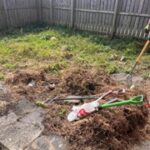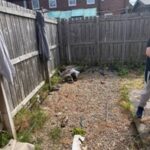 When VODA's Good Neighbours project was approached by a Pastoral Lead at Beacon High School requesting assistance on behalf of a family of a young autistic boy for help with a tidy up of a garden, Sector Connector got in touch with EE to see if they could help out.
The garden was said to be a complete mess. All the family wanted was a safe space for their son to be able to play in the back garden; including a trampoline for stimulating activity but the family did not have the funds to have the garden cleared.
A video provided by the family showed the magnitude of the task but when Sector Connector reached out to EE, they were very keen to help and to use some of their volunteering days to make a real difference.
Good Neighbours and EE visited the garden to see for themselves the nature of the task, but, EE was not to be deterred and they spent a full day tackling the garden.
The team at EE thoroughly enjoyed the day and loved the opportunity to help the family. The pastoral leader at Beacon High School who initially reached out to us got in touch to say:
"I just wanted to say how grateful I am for you organising a team to support one of our pupils' families in taming their overgrown and unusable garden. This has been so valuable for the family and means their son can now access time outside in the summer."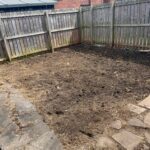 The mother of the family said:
"They were brilliant! This has made a big difference for my son; we can now get the trampoline out so he can play safely outside. A massive help. Thank you so much!"
Find out more about Sector Connector at voda.org,uk/sectorconnector or email [email protected]