Sector Connector is an exciting collaboration between businesses, voluntary sector organisations and the public sector in North Tyneside to share skills, volunteers and resources.
Sector Connector recognises that all three sectors have skills and services that are beneficial to the other two, and acts as an intermediary to put community-minded businesses, public sector bodies and voluntary and community organisations in touch with each other to make good things happen.
Key to the way that Sector Connector works is to find common ground and shared values between people and organisations that often have very different objectives, outlooks and ways of working.  Sector Connector provides a free brokerage service to link up businesses that have an offer of community support with voluntary organisations in need of assistance.
Its greatest strengths are:
It is run at a local level
Embraces a wide range of support interventions
Is based upon bringing people together
For Voluntary Organisations
Sector Connector can provide access to free or reduced-cost training, skills, and professional advice and support that might not otherwise be affordable.  It can also be a valuable source of volunteers and trustees and can help voluntary organisations to spread their learning and expertise to a wider audience.  Full details of how your voluntary organisation or community group get help through Sector Connector can be found here
For Businesses
Sector Connector can help deliver Corporate Social Responsibility and in demonstrating added social value in delivering service contracts that have a wider community or public benefit.  Equally, working with the Voluntary and Community Sector can help with staff development, gaining testimonials, identifying new markets and building closer relationships with customers.  Full details of how Sector Connector can help your business to make a difference in the local community can be found here
For Public Sector Organisations
Working with Sector Connector can help to engage organisations and businesses to tackle common issues, inform services and reach further into communities.
Case studies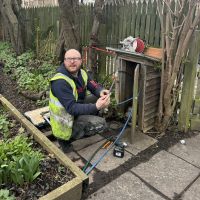 When the Lovaine Community Garden needed help with a broken water supply, they contacted VODA's Sector Connector to see if any local businesses could come to their aid. Thankfully, Rothwell…
Read more