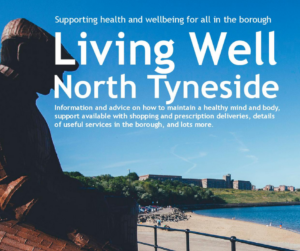 Living Well North Tyneside is a useful booklet providing information and advice on local health and wellbeing services.
The booklet provides information on how to maintain a healthy mind and body, how to access useful services in the borough including shopping and prescription delivery services, and lots more.
Healthwatch North Tyneside led its development, working with other local organisations who make up the Living Well North Tyneside Partnership.
The Partnership, made up of local organisations Healthwatch North Tyneside, Age UK North Tyneside, North Tyneside Clinical Commissioning Group, Tyne Health, North Tyneside Carers' Centre, North Tyneside Council, VODA and others, will work to improve access to information about health and wellbeing in the borough.
A Living Well North Tyneside website will be launched this summer to share information about living well, local activities and support available to local people. Until then you access information about local services through the North Tyneside SIGN Directory www.sign-nt.co.uk
Thousands of copies of the booklet will be handed out at the Covid vaccine centres in North Tyneside and a printable copy can be downloaded here.