Need Urgent Help?
This is not a crisis service. Please contact the services below if you are experiencing a mental health crisis.
If you or someone else is at risk of death or serious injury, call 999 immediately and ask for the police or an ambulance.
For urgent help with your mental health contact the Crisis Resolution and Home Treatment Team for Northumberland and North Tyneside on 0800 652 2861.
For 24/7 emotional support, speak to the Samaritans FREE on 116 123.
Need ADVICE or GUIDANCE about mental health support.
If you need to find advice, groups, services or someone to talk to you can find lots of useful information about mental health support in North Tyneside for adults and young people via the button. Or you can contact any of our alliance members listed below.
The VCSE sector has a vital role to play in helping realise the ambitions of the Adult Community Mental Health Transformation Plan and Children and Young People's Mental Health Strategic Transformation Plan.​  
Community Mental Health Transformation is happening across the country with the aim to provide integrated place-based support. You can find out more about North East and North Cumbria NHS mental health work stream here:
North Tyneside Mental Health Alliance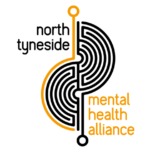 The North Tyneside Mental Health Alliance was established in 2022 to build a place-based alliance of voluntary, community and social enterprise sector organisations, ready for partnership working and procurement, a two-year programme of capacity building, relationship building, co-production and strategic planning was proposed. This was to include VCSE sector organisations being supported to work better together and embedding principles of co-production to form a sustainable innovation partner to the ICS and NHS more widely.  
Aims of the Alliance
To strengthen integrated working between the VCSE sector and other health partners.   

 

To co-design solutions that promote equality and reduce health inequalities.   

 

To provide a collective voice for VCSE sector partners.   

 

To provide a co-ordinated route for health partners to reach a wide range of VCSE sector organisations.   

 

To strengthen the existing relationships within the VCSE sector, to encourage and support collaborative working.  

 

To support building the capacity and profile of VCSE sector providers.   

 
Alliance Members
The following organisations are currently members of the North Tyneside Mental Health Alliance:
Happydaze
Launchpad North Tyneside
Alliance Membership and how to find out more
It is free to join the North Tyneside Mental Health Alliance. It doesn't matter how big or small your organisation is, you are welcome to join the alliance.  
There are 2 levels of membership to choose from; 
General membership

gives your organisation access to training and event opportunities and you will receive a regular Alliance e-bulletin.

 

Active membership gives your organisation access to the same benefits as general membership but you will be involved more actively in attending Alliance member meetings, decision making processes and applying for collaborative funding opportunities within the Alliance.

 
You can change your level of membership at anytime. If you would like to find out more about joining the alliance, please contact  [email protected] 
Upcoming Alliance events & training
All of our events are open to staff from our general and active members of the North Tyneside Mental Health Alliance.