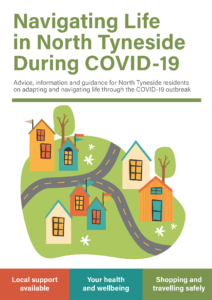 As government guidelines on shielding and measures to control the spread of coronavirus continue to change, we are all finding ourselves having to alter the way we live our lives. Some people may find these changes easier to adapt to than others. With so much information out there it can be difficult to keep up.
Navigating Life in North Tyneside During COVID-19 is a magazine produced by VODA and North Tyneside Council to help local people to navigate a changing landscape in the borough of North Tyneside.
We're very lucky in North Tyneside to have access to a wealth of services, local charities and community organisations which have adapted to support people during the pandemic. The centre pages of the magazine are a pull-out and keep directory of some of these organisations and their contact details.
We're also lucky to have hundreds of local people who have given their time as volunteers to help their neighbours. You can read more about the Good Neighbours volunteer project and NHS volunteers.
The magazine features advice and information on the following:
Help to prevent the spread of coronavirus
North Tyneside COVID-19 Support Hub
Good Neighbours support local residents
What to expect at your GP appointment
What to do if you are ill in North Tyneside
Finding local health and care information
Useful Services in North Tyneside
Your guide to face coverings
Staying well in body and mind
Practical and peer support from NT LIFE
Advice on looking after your health and wellbeing
What to expect when you're shopping
Getting around and socialising safely